Henry J. Kaiser was a man who did not take the easy path in any of his many business ventures – He thought big and built "Liberty" ships at seven Kaiser shipyards during and after World War II. Earlier the industrialist was the principal contractor of the Hoover Dam and also formed the Kaiser Steel and Kaiser Aluminum companies and other ventures.
In 1946 Kaiser and Joseph W. Frazer became involved with the Graham-Paige Company and later purchased the assets of the old-line automaker. In 1946 the pair introduced both the new Kaiser and the Frazer cars at Madison Square Gardens in New York City.
The front-wheel-drive Kaiser prototype featured unibody construction and front and rear torsion bar suspension. The advanced Kaiser, however never reached production due to the lack of time to perfect the concept, and it was later dropped. Although the conventionally designed Frazer rear-wheel-drive when into production, and sales began in 1947.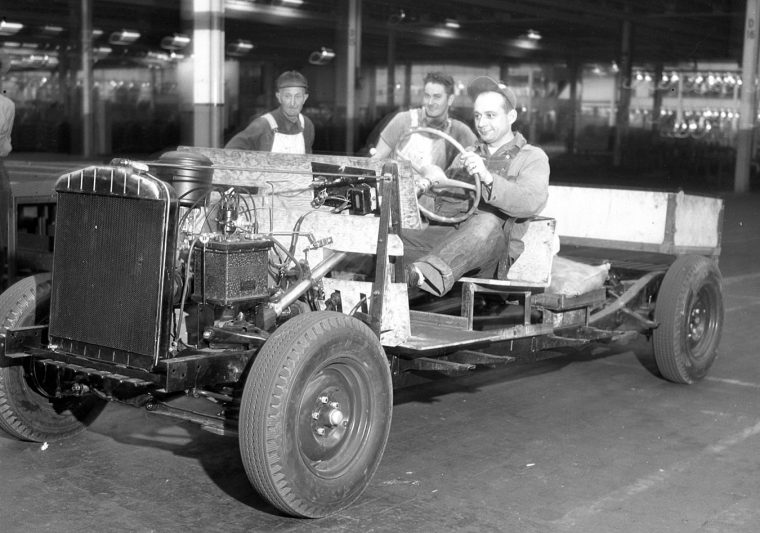 The rear-wheel drive Frazer test chassis with a weight box mounted on the rear of the frame.
This is the first in a series of posts showing early activities at the nearly-empty Willow Run Plant, were the Kaiser-Frazier was constructed. It was a surplus defense plant situated in the Michigan town it was named after. The building was built initially for the construction of World War II aircraft by the Ford Motor Company.
Today's featured images dated by the source to May of 1946 were taken at the end of construction of the prototype rear-wheel drive Frazer "test mule" chassis and while the coachwork for one of the two pre-production automobiles was built. Later in 1946, the pair of machines were displayed at the Waldorf Astoria hotel in New York City.
Please share with us what you find of interest in these photos courtesy of the Ann Arbor District Library.