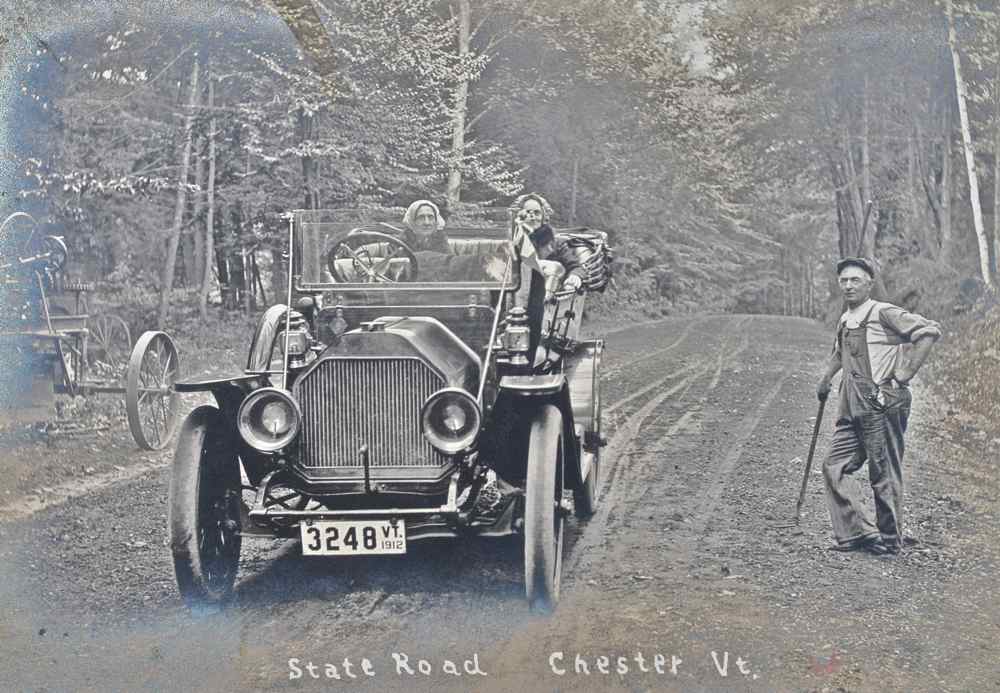 Ida Wellman of Chester, VT, was found to own both of these cars in checks of old state registry records by Tim Martin. The car above appears to be a 1910 Model 42 Overland, which is a 112″ w.b. 35 h.p. car. One interesting feature of the Overland and a few other cars of the period was the oval radiator filler which makes filling by a bucket convenient. Off to the left side of the photo is the horse drawn grader which has just scraped the road, and the man who appears to be from the road crew, is leaning on a rake.
Wellman's other car below, is a 1912-1914 Hupmobile Model 32 on a 106″ w.b. Interest-ingly it does not have the Vermont issue front license plate. The top tank of the radiator has been painted and the numbered 5961, along with 1914 and VT. Noticeable just to the right of the front fender is a cylinder style butter churn.
Check the two thumbnail photos below which will give you an idea of the what the town of Chester is like. It has survived with many of its original houses intact and the Full-erton Inn is still there and has been a stop for many a car tour thru the area. The Old Motor photos.