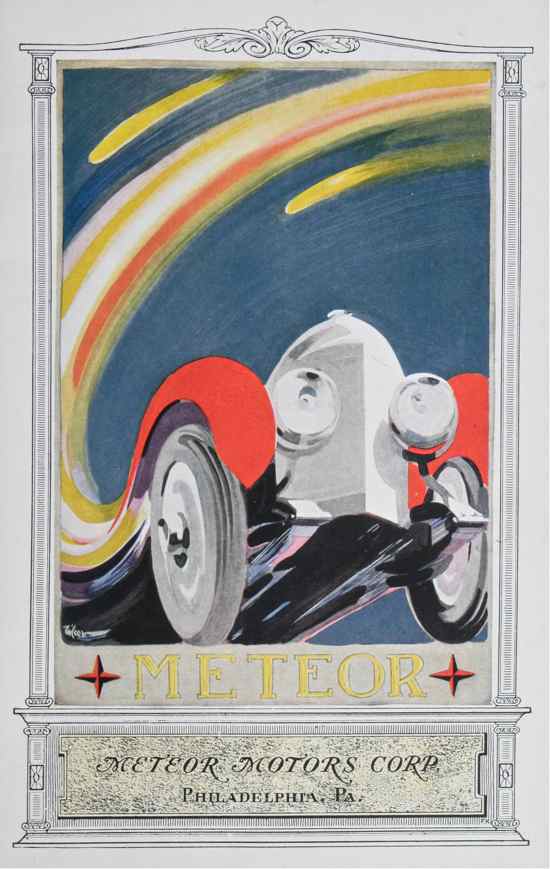 The Meteor was a high quality, dignified and at the same time sporty assembled car that the management  choose to use the Rochester Duesenberg engine. The Vice President W.D. Morton had the most experience with automobiles on the management team and had previously worked for Mercer and Biddle, another Philadelphia area assembled car maker. It appears to have been aimed at the elite in the area who wanted something distinctive for going to the club or perhaps out on the town.
It was on a 129″ wheelbase, with a four-speed transmission and featured a radiator with a deep vee shape, along with the headlamps sharing that same feature. It was quite expen-sive with the chassis selling for $4000. For bodies they choose one of the best in the area, Fleetwood, who built a sport touring, a sleek runabout, a four-passenger roadster and a very rakish town car. Fleetwood and the Meteor shop was also available to custom design anything the customer desired.
Unfortunately like many makers they were only in business between 1919-1921 being victims of the post-war recession. Is is unknown if any have survived and Fred Roe was only able to find two photos, seen below of a Meteor which were taken by Smith Hempstone Oliver in 1935. Courtesy of Racemaker Press.