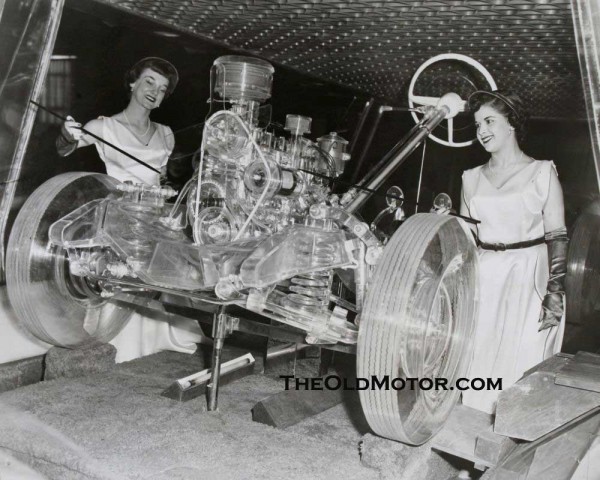 We recently looked at a pre-war Plymouth with a clear plastic top and we have all seen photos of the late, Frank Kleptz,  clear plastic bodied Pontiac that sold recently. But here is a Plymouth show chassis that was built entirely out of plastic with the exception of what appears to be metal internal parts in the engine and other component parts.
The occasion was the 1952 Chicago Motor Show and the press photo is dated Feb. 18, 1952. The caption reads as follows; Plymouth chassis and operating motor enclosed in plastic fascinate Myra Miller (left) and Josephine Gayton. Plastic enables visitors to see the motor running.
It appears that it was a complete chassis setup with some type of electric motor and speed-reduction gear, to rotate the internal engine parts slowly to dazzle show attendees. It looks like both Myra and Josephine were also equipped with plastic head gear and pointers. The Old Motor photo.