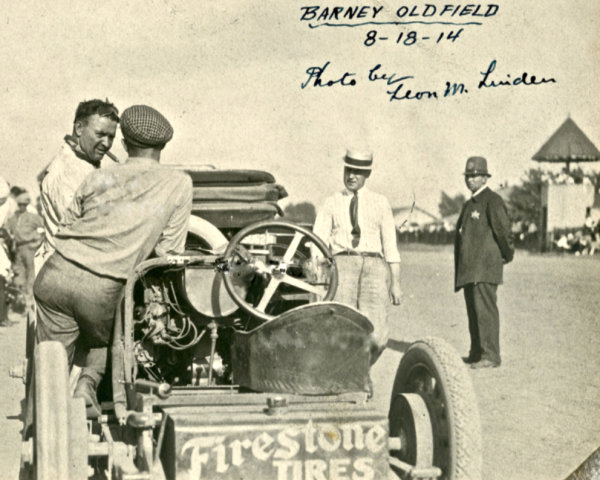 This is a photo of Oldfield the showman out to do some demo laps, probably on a fair-grounds track lined with naive farmers. Oldfield, also used to team up with and race early aviator and dare devil Lincoln J. Beachey. He would pilot his airplane competing against Barney in a race around the track. These events were staged only for the appearance money they could extract and the shows were always fixed.
The car is a front wheel drive Christie and this photo gives us a rare glimpse of how the car was constructed. It shows a tank, possibly for fuel and also a magneto under the cowl.
The photo below is believed to be Oldfield and Beachey, only this time Barney is driving his early chain-driven Fiat racing car. The paragraph below courtesy of Wiki, tells about the tragic last flight of Beachey. Oldfield luckily escaped death in his exploits and lived to a ripe old age after a long career on the dirt tracks.
The Panama-Pacific International Exposition was the scene of Beachey's last flight. Prior to the exposition, in 1914, he ordered a Taube monoplane built with an 80 horsepower engine, powerful enough to carry out the stunt that Beachey had not yet presented to the public: upside-down flight. He had tested it at low altitudes, and on March 14, 1915, he was ready for his first public flight. He took the plane up in front of a crowd of 50,000, made a loop, and turned the plane on its back. He may have been so intent on leveling the plane upside-down that he failed to notice he was only 2,000 feet above San Francisco Bay, too close to complete the stunt. He pulled on the controls to pull the plane out of its inverted position, where it was slowly sinking. The strain caused both wings to shear off, and the fuselage plunged into the bay while Beachey fell out and tumbled down to the Earth.