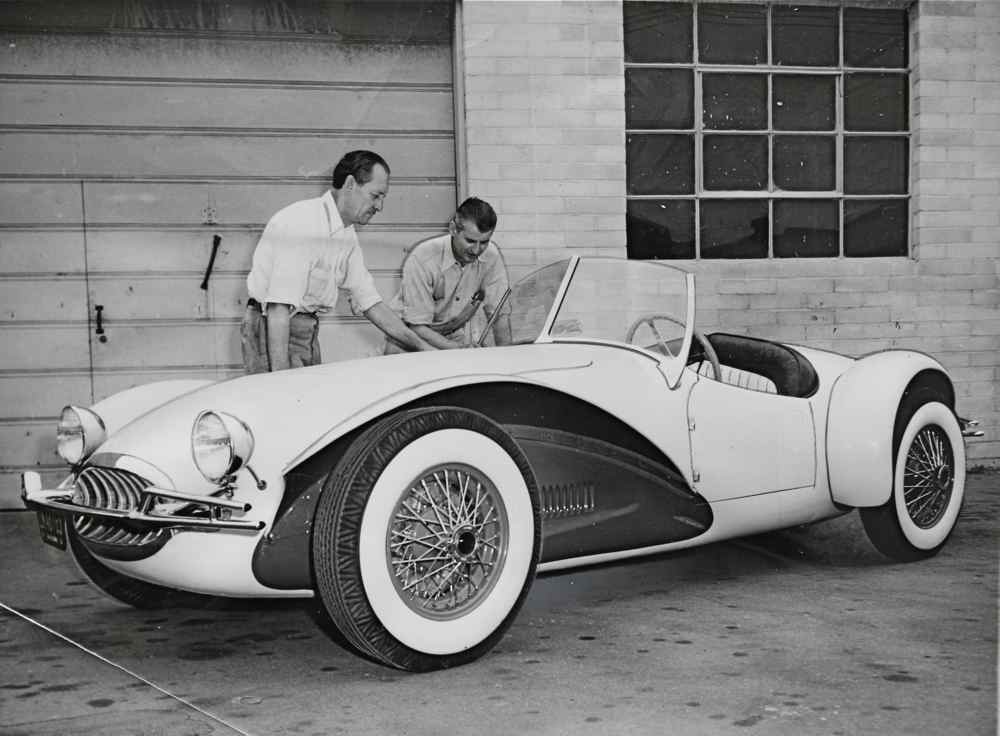 This unnamed special looks to be having the finishing touches but on it by master metal fabricator Emil Deidt from California Metal Shaping. Deidt was one of the premier metal shapers and body builders of the time who worked on many specials and racing cars in the postwar period. Deidt later on built the bodies for the Scarabs that we studied earlier.
With Deidt in the press photo, which is dated August 5, 1951 is Dan Quella who is listed in the caption as being an automotive engineer who helped him build it. The pair built the car for radio comic Eddie "Rochester" Anderson. The caption states that the car weighed 2,100 pounds, developed 225 h.p. and was 14 feet in length. The caption also states that it was a road racer.
We suspect this special is built on a Jaguar XK120 chassis as the wheels windshield and steering wheel appear to be from a XK. The body looks to be a total custom by the talented metal smith. Can any of our readers tell us more about this car? Was it raced and if so where and by whom? The Old Motor photo.
**** Update I ….Thanks to reader Mark Windham who sent in a comment and a link to a photo of the car which has survived. The car was shown at The 2011 Amelia Island Concours. 

****Update II …..Thanks to James Shirley in his comment below and also for the cutaway photo seen at the bottom from the Speed and Sport magazine, Trend Book No. 104., we now know its construction details and it was not based on the Jaguar components that we guessed at.
Many thanks to both of you.