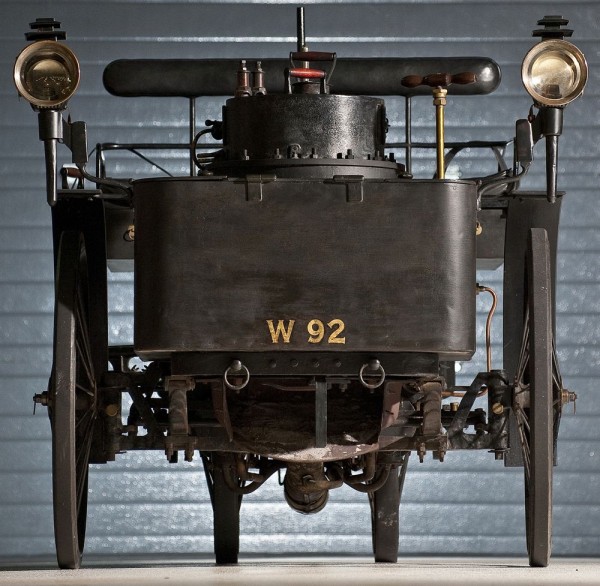 At the RM Auction at Hershey, what is called the worlds oldest operating car sold for $4.62 million last night. It is a very interesting vehicle to study and the RM catalog has the following to say and much more (Lot 259) :
"La Marquise" was built in De Dion's new factory across the River Seine in the Rue de Pavillons at Puteaux, to which the company moved in 1884, when it outgrew its original premises. "We could employ as many men as we liked –12-15 and sometimes even 20," boasted De Dion.
The new steamer seated four people in pairs and back-to-back "dos-a-dos" as it was known. The seats were located on top of the steel tank, which held 40 gallons of water, good for about 20 miles. The vertical boiler was ahead of the driver and surrounded by a bunker, which kept the fire fed with coal or coke through hoppers at the bottom, eliminating the need for stoking. A manual pump supplied water to the boiler initially, and when pressure was up to the operating level of 170 psi, donkey engines began working and water was supplied automatically.
Later in life De Dion declared that "La Marquise" "can be considered the embryo of the first touring automobile. It had four seats and it was already a family car."
Count De Dion kept "La Marquise" until 1906, finally selling it to French army officer Henri Doriol. The Doriol family owned it for 81 years but never had it running, since it had lost brass and copper fittings to the war effort in 1914. Doriol displayed "La Marquise" at the Grand Exhibition at Grenoble, Switzerland in 1925 and was awarded a special Diplome d'Honneur.
Be sure view the video below, courtesy of Great Cars TV, with Tim Moore, who restored it and is shown firing it up and taking it for a drive. The video also has interviews with historians David Burgess-Wise and Jonathan Stein telling all about this incredible car. Photo above and partial catalog text courtesy of  RM auctions.