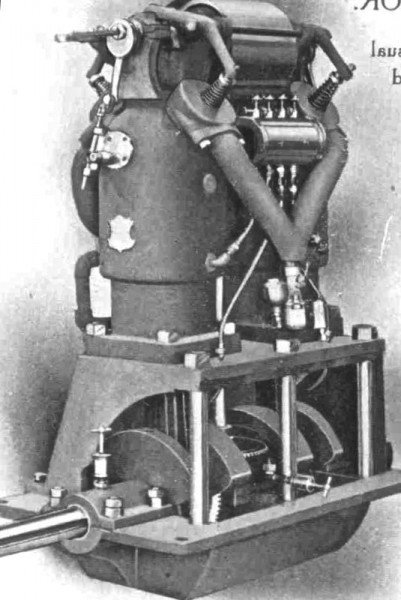 This engine shown above, was made by Truscott Launch and engine works of Saint Jo-seph, Michigan. It was only briefly mentioned in the Truscott 1902 catalog as an experiment.  In 1906 Truscott began selling a marine engine that was identical to the 1905 Welch four cylinder. They also sold engines of their own design. In addition to the OHC, note the fully counter-balanced crankshaft.
Reader Don Curtis has a Truscott engine which is very similar to the engine pictured above and lead us to some of these illustrations and information. He hopes that someone can find more information on this whole story. The later Welch engine had several im-provements over this engine. In addition to boats and marines engines Truscott also made engines and hardware for several early automakers. It appears that these two companies, even though they were one hundred and twenty miles apart in Michigan worked together. Welch at the time was located in Chelsea, which is much closer to Detroit. Perhaps they worked with Truscott because of their casting abilities?
We question who came out with the original idea, Truscott or the Welches, whose patent drawings filed in 1905 are shown. The ad for the Truscott foundry below, was from Gas Power 1908 and states that the foundry had been in operation ten years. With quite a bit of searching we were also able to find illustrations and text in the Automobile Review, March of 1903, and the Automobile, Feb. 1903 showing the new Welch touring car and showing three overhead valves in a "spherical combustion chamber" The text from The Automobile states " The inverted valves in the center of the heads and mechanically operated by cams on a rotating disc between the cylinder heads turned by a worm gear in the crankcase on the lower end of a rod passing down between the cylinders."
From all of this information we can be reasonably safe assuming the Welch built this car in 1902 to get it ready for the 1903 Chicago Motor Show held in February. What we have found in this latest information seems to document and may predate the recognized 1904 dating of Welches first OHC hemi. Read more in the comments on the last post in this earlier Matheson information.
Can any readers add more to this story or show us evidence of an earlier OHC engine here in the states? Who can tell us about the early OHC engine designs from other countries?