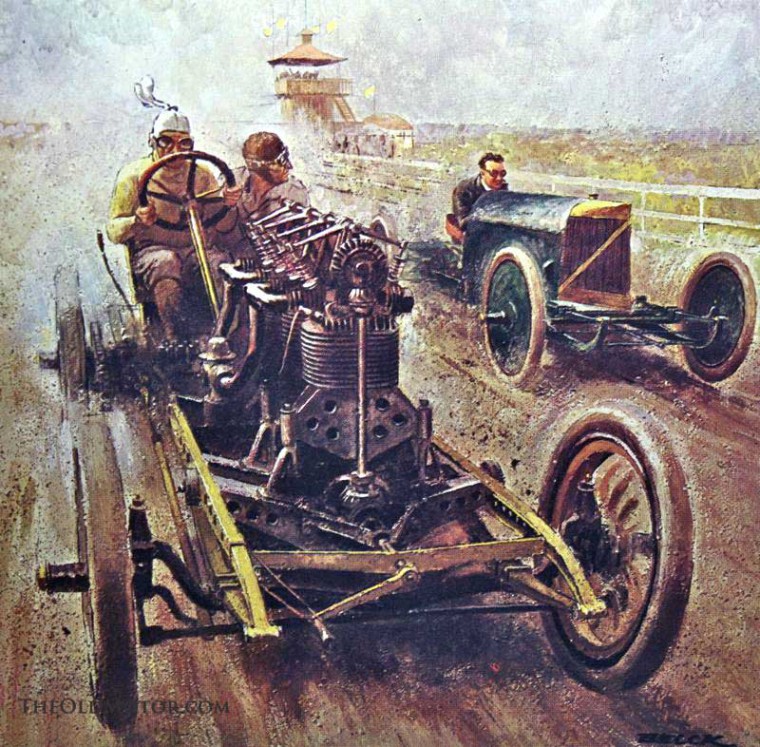 Carl Fischer who is best known for founding the Indianapolis Speedway, in addition to being an entrepreneur, was also a racing driver in the 1904-05 period. He was quite patriotic and wanted to produce a big win for an American automobile, which at that time was not up to the same level in racing as its British and European competitors. Carl had the Premier car company, of Indianapolis build this car for him to race, under the supervision of George Weidley, who favored air-cooled engines at the time.
Weidley created a monster, 7″ x 5 1/2″ 846 c.i. ohc engine, which was quite unusual and notable because of the hemi head. It had an open aluminum crankcase with the crankshaft and connecting rods totally exposed and lubricated by a total-loss oiling system. The cast iron cylinders and integral heads were supported by four pillars each, which along with the fins for air-cooling and the exposed rocker-arms, made for a very sinister and formidable looking creation.
Fischer entered it in the 1905 Vanderbilt Cup elimination race, but unfortunately the car ended up being around 100 lb. over the maximum weight allowed. In spite of a last minute weight loss program of drilling hundreds of lightening holes in many components, it did not show up for the official weigh-in. This barred the machines entry and it was not allowed to enter in spite of Fischer trying many different angles to get the race officials to allow it in the elimination race, while he worked on a further diet for the machine.
It's only recorded entry in a competition event, ended up being a five lap exhibition race, along with winning a five mile handicap race, both at the Indianapolis fairgrounds in Nov. of 1905. After that the car faded away and ended up being stored in the Premier factory for many years. It has survived to this day and it is in the care of Indianapolis Speedway Museum. If you have the time to stop there, by all means go and hopefully you will be able to see this incredible creation in person.
The Peter Helck painting at the top, 1905 Carl Fischer's World Beater, courtesy of the Helck family. Engine photos and text from an article in The Automobile, Oct. 26, 1905. Photo at the bottom from the Peter Helck Collection, courtesy of Racemaker Press.