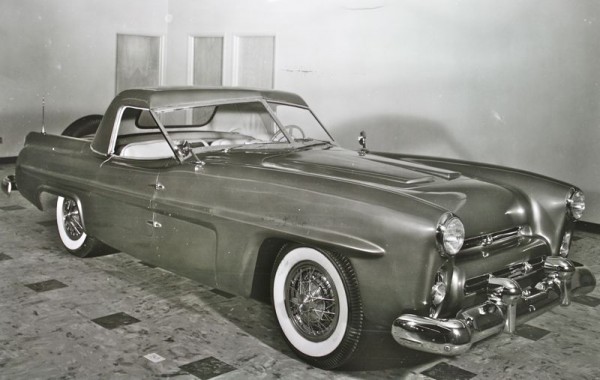 The "Electronic" is displayed in this press photo, which was taken in Salt Lake City, on June 23, 1955. The one page press release with it is filled with the usual pie in the sky claims that we won't bore you with, but we will fill you in on the claimed details. F. B. Malouf, president of the "multi-million dollar" Electronic Motor Vehicle Corp. states the following about the car; It has a fiber-glass body of 45,000 psi tensile strength. It is driven by a "dual torque" motor which is powered by silver-zinc-peroxide batteries energized by a small turbine operated generator. The top speed is said to be in excess of 100mph.
The release goes on to state how two factories are already built and the new model is already in production with 400 targeted to be made in the first year. A third factory was also planned for Salt Lake City.
What we did find after some research is that this was an attempt at an early hybrid and it was called the La Saetta. It had a gasoline or diesel powered motor/generator turbine unit. We were not able to find any more information on this early idea before its time, but suspect that this may have been the only one built. Be sure to let us know if you can add any more to the story. The Old Motor photo.