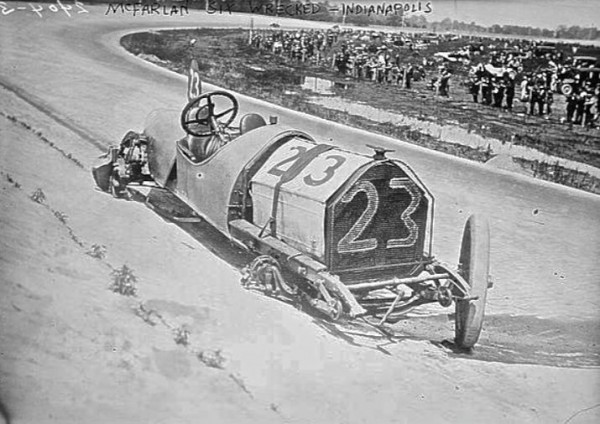 We do not normally show car or racing crashes but in this case are going to make an exception as fortunately no one was hurt. We were able to obtain a postcard that racing driver Tom Alley sent to his cousin after the race. He told her how he faired when the "wheels caved in" on the McFarlan on the 64th lap. The car in the George Bain photo above is parked in the spot on the postcard that he marked with an X. Alley was a relief driver in the race at the time for Mel Marquette.
Ralph DePalma drove one of the most dominating races in history of the event after leading laps 3 to 196 and at that point he was leading by 5 1/2 laps at the time, when his Mercedes suffered a broken connecting rod, just 1 1/4 laps from the victory. Joe Dawson in his National went on to victory by leading just the last two laps, as DePalma and his riding mechanic, bravely got out of the car and pushed it down the entire length of the front-stretch.
Photos of Dawson below and DePalma and his mechanic from the Peter Helck Collection, courtesy of Racemaker Press.