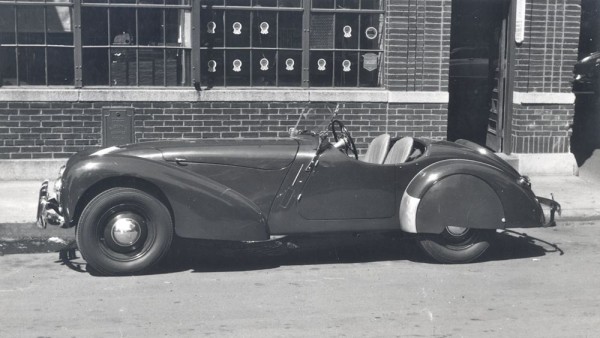 Thanks to Alden Handy we are offered a glimpse of some of the rarities that could be found in and near New York City and also in the Boston area in the postwar period. This photograph shows us what appears to be a 1950-53 Allard K Type.
The note with Handy's photo reads as follows; Allard, 1951 Sports Roadster (dark blue) Ford or Cadillac V8 Engine. Taken at McNear's, Brookline, Mass., May 1951.
McNear's is an old line firm that originated from Quinsler & Co. in Boston, Mass., that started after the civil war, possibly in the 1870s. By the 1920s they had moved west to Brookline were they built custom bodies along with commercial work. Postwar McNear became a Nash distributor along with handling Rolls, Bentley and other cars such as this Allard. The company continued into the fifties until it was eventually renamed Foreign Motors Inc. This company has since been changed to Foreign Motors West and is today part of the Herb Chambers Companies a large group of dealerships in the Boston area. Photo courtesy of Joe Puleo.