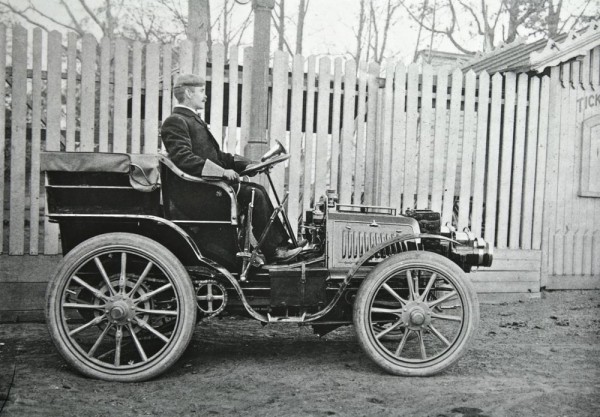 We have just opened up a fresh scrap book recently from the Peter Helck collection that is filled with wonderful early racing and motoring scenes. This set of photos shows well known, early racing driver Joe Tracy evidently before his racing career started, at the time when he worked as a chauffeur and assisted early motorists in New York State.
Above we see him in a high quality French Panhard. At the left (below) we see him stand-ing with the same car that is in the next photo filled with passengers. The sign in the first photo reads Armbrusters-Greenville and the last line other than park at the end is not legible. Greenville, NY. is North West of the Catskills, so these could have been photos taken with summer people who Tracy assisted. He is also shown on his early motorcycle in a photo that Helck has dated as 1900, no doubt assisted in that dating by Tracy later in his life, as the two became friends. The last photo is taken in front of the same house again, but the machine is by a different maker.
Other than the Panhard at the top, none of these four at the (below) are identified or dated other than the cycle, so please enlighten us if you can help with identifying any of them. Photos courtesy of Racemaker Press.
New Information: Mark Dawber and two other readers have identified the bike that Tracy is on as a Werner and more photos of them can be seen by following this link.
I was researching for a post on Packards and found the photo below of a Darracq on the Oct. 2, 1902, NYC to Boston run put on by the Automobile Club of America.  24 hrs. later Ariejan Bos has also come up with the same ID, read his comment below. Thanks to all.