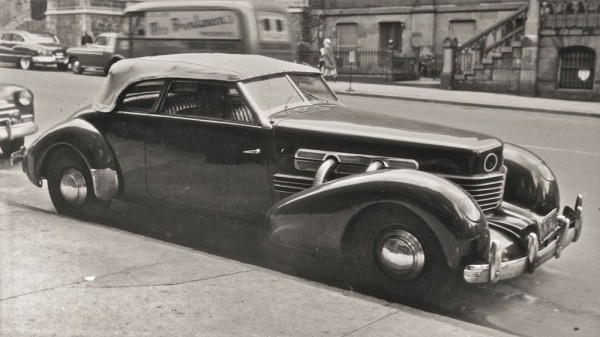 Alden Handy captured this very interesting photo of a Cord parked on the street in New York City and captioned it only as follows "Cord convertible sedan. Taken on Lexington Ave., 24 May, 1951,  N.Y.C."
After a bit of study it appears to be a well taken care of fifteen year old car at the time with a few changes. First off a pair of porthole vents have been installed on the very front of the hood. The big city parking no doubt took a toll on the delicate center of the original front bumper. It was replaced with something Detroit issue, along with five bumper guards to protect the shapely nose of the beautiful design.
The hubcaps have also been changed and the black wall tires, instead of the wide white walls we are used to seeing, give the classic a look that draws the eye more into the exceptional lines that it possesses, instead of emphasizing its tires and wheels. Photo courtesy of Joe Puleo.