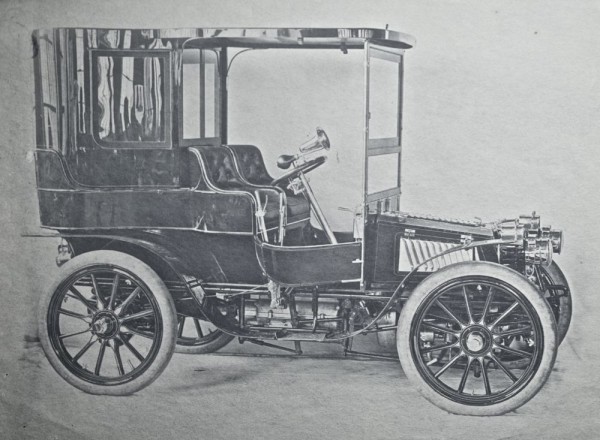 Hugh Dolnar had this to say  about the $7500 (the price above is a typo) 1903 Model K Packard in the Cycle and Automotive Trade Journal in early 1903: Correctly anticipating the demands of 1903 car purchasers, Packard began the design of an ultimate creation, in the way of a large tonneau-body vehicle about Jan. 1, 1902. In the design and construction of  which nothing that could add to luxury, elegance and the certainty of action should be spared, with the result of a first vehicle of this imperial type, known in the Factory as the "Model K".
What the press has to say about an automobile though, is often not the case, because the Model K soon became a point of contention between Packard officials J. W. Packard and Henry Joy. It probably would have been a fine motorcar given more development and a longer production run. The cars engine had a tendency to be over-oiled which in turn fouled spark plugs. There were also ignition problems and the early driveshafts were causing problems and dropping out of the cars.
Packard ended up resigning over the fuss and trouble caused by a design he was against from the start. He and Joy were able to patch up relations enough, so that he would be able to get the remaining ten of a dozen Model K Packards built to at least work reason-ably well. It was a year of change at the company and many different models were being built and tested, they included the F, G, K, M and the L, which was the upcoming 1904 model that was a total success and we will look at it next. Photos from the Rod Blood Collection courtesy of the Larz Anderson Auto Museum.