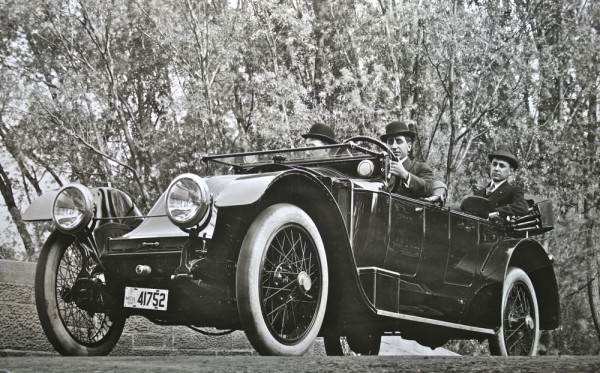 The Keeton was manufactured for two years in Detroit by Forrest M. Keeton. He had been in several previous automobile ventures, one of which was the "French" Croxton-Keeton, that appears to have been a Renault copy. He then started producing both the four and six-cylinder Keeton with the inital production doing quite well on a small scale. In 1913 Bob Burman, the well known and hard charging driver, entered a Keeton four in the Indianapolis 500. By later in 1913 the company, like many under capitalized firms was in trouble and was bailed out by Charles S. Shaffer, president of the Car-Nation company, but both ultimately failed.
The caption with the Spooner & Wells photo above, is dated May 1914 and tells us that it was taken on Buchanan Ave. in Detroit with Harvey Campbell of the Board of Commerce is sitting in the back seat. The Old Motor photo.
Bob Burman and his mechanic are seen presumably before the 1913 Indianapolis 500 below, in the four-cylinder Keeton he entered. He was doing quite well early on until the car caught fire, the whole story of which can be read in the thumbnails below. Hughie Hughes relieved Burman for the remainder of the race and the car was flagged to an eleventh place finish.
A few weeks later the Keeton Company posted a check for $10,000 to the New York World newspaper to hold, hoping to entice Jules Goux who won the race in his Peugeot, into a rematch with Burman. As Goux was already back in Europe preparing for the French Grand Prix, it appears that this was probably just a hollow PR stunt.
Below is a photo of Burman presumably before the race, it was taken by George L. Mooney and is courtesy of Janet Lowry.