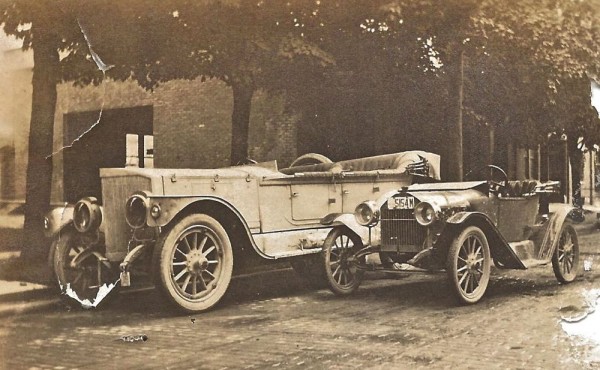 Here we have big and little today and the big is a mystery we hope you can help out with, the little car appears to be a small 20 h.p., and is possibly a Metz or a similar make.
The big car appears to be a production car that has been modernized somewhat by the addition of a massive vee-shaped radiator and an unusual hood. It also has the oddest shelf on the sides of the top of the body, that almost appears to be an add-on or after thought along with a curved ridge below the doors. The most unusual front fender bills, which appear to be add-ons can be seen along with what appear to be electric parking lights. The feel that we get from this car (reminds us of a great white shark), is that is has been dressed up and rebuilt to look like a German Benz. The headlamps at first appeared to be Solarclipse lamps but are by some other maker and maybe of the French Bresnard type of lamp or a copy (see thumbnail below).
We have been studying what chassis details are visible (wheels, hubcaps and front frame horns) on this car and match has not been found with any domestic maker yet. From the length of the hood, it appears to possibly be a six-cylinder and it is right hand drive, so there are two more clues to go by. We believe that Locomobile, Lozier, Winton and Thomas have been ruled out so far in the checking that we have done.
Another possibility is that it is an import, as the cowl shape is similar to what has been used on Rolls-Royce (chassis details do not match) and also has been seen on some German makes. The odd hinges on the doors are also quite unusual for this country, which may also indicate it is from a foreign land.
So readers, its time for you to put on you're thinking caps and figure out exactly what we have here. Hopefully the license plate experts can id the state the plates are from. Please send us a comment if you can help. Photos courtesy of Barry Wolk.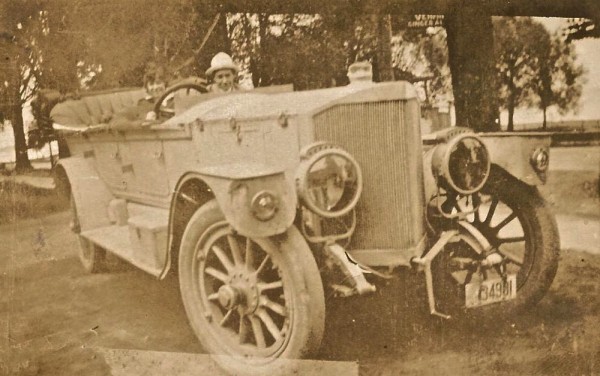 This car has understandably been quite interesting to readers, one, Binney Beale whose families cars we featured photos of this past summer had Fiats. This enlargement of the wheel on one of the Fiats looks very close to the mystery car, both the hub and the hub-cap. This was a 1911 which is around the same vintage but was a 4-cyl. What we need to come up next is a good photo of an early teens Fiat six that hopefully also shows the frame horns to see if we may have a match. Thank you Binney.