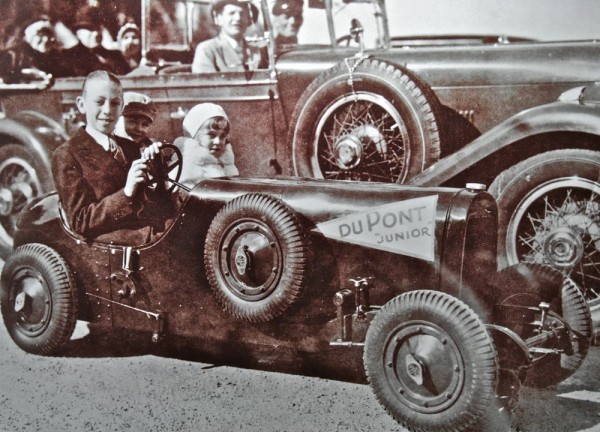 In 1929 E. Paul duPont built a total of six toy duPont cars after having seen a Seiberling salesman's sample (16″ x 3-1/2″) of the tires the full-sized duPont used. He could also have possibly been inspired by having seen the "Baby Bugatti" that was shown at the 1927 Milan Automobile show.
Reportedly six were built and four of them have survived. They used a 1-1/2 h.p. Briggs & Stratton engine along with a friction drive. The aluminum bodies were custom built by the Merrimac Body Company, who also built some of the full sized duPont bodies.
One was made that utilized a 4-cylinder Henderson motorcycle engine along with a three-speed transmission and it could cruise at 40 mph. It is seen below with the owner Larry Parish, standing behind it while his brother sits in it. Parish's father who was from Evanston, Illinois, was on the board of directors of the company, which no doubt helped him end up with the neat little car. Photos courtesy of Stan Smith who has recently had his excellent book on the duPont published.