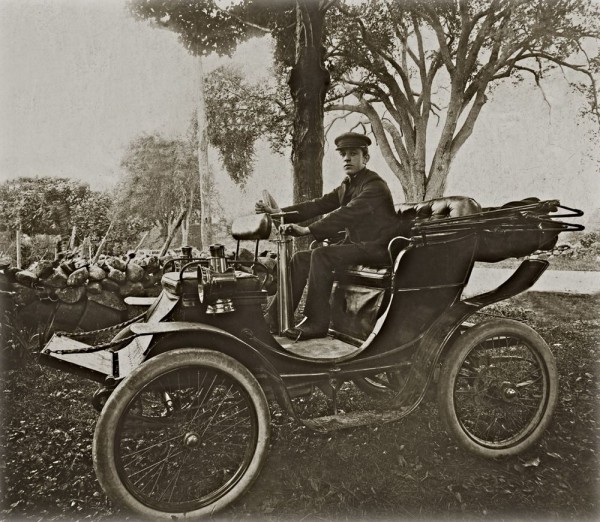 This early De Dion Bouton at the beginning of the last century, made its way to Andover, Massachusetts, a village with a rich history settled in 1642. The car may have been brought there to provide transportion at Phillips Academy, the oldest incorporated academy in the US, having been established in 1778. Can any of our readers date the smart looking De Dion in the photo or know more about the coach work it is wearing? Photo courtesy of Eric Killorin.
The car was built by the French company whose roots were established in Paris in the early 1880s by Charles Trepardoux and George Bouton, who at first concentrated on and built a small steam engine. Count De Dion joined the firm and the focus became coal-fired passenger and commercial vehicles. Just below is an article about the very success-ful steam boilers they built, as described in The Automobile a Practical Treatise, publish-ed in 1903. To get a feel for the steam vehicles they built, you can take a look back at the fascinating 1884 DeDion Bouton et Trepardoux Dos-a-Dos Steam Runabout we featured here recently. This is considered to be the worlds oldest operating automobile and you can watch it be steamed up and driven.
After the Otto four cycle engine was introduced, the Count and Bouton formed a new company called "De Dion Bouton et Cie" in Paris after separating with Trepardoux. Bouton who was a gifted engineer worked on his own designs and came up with a very successful high speed small single cylinder engine that became a big success. Thousands of them were produced and some were installed in the firms tricycles and quadracycles and many were sold to other budding firms for installation in their own machines at the dawn of the manufactured automobile.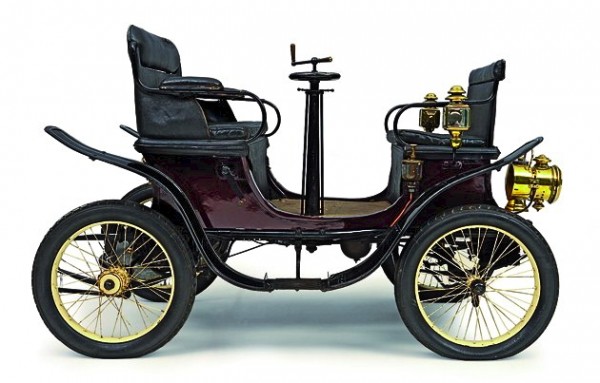 Photo above courtesy of the Louwman Museum, showing a  1900 3.5 h.p. Vis-A Vis that they have on exhibit in the collection.
The engine design was also patented here in this country during 1897, by Kenneth A. Skinner, the sole agent and importer for the engines at the time in the United States. By 1900 the company was the largest manufacturer in the world and produced approx-imately 400 cars and 3,200 engines. In the same year the firm built a new factory in Brooklyn, NY, to manufacture the engines and the "Motorette" here in this country.