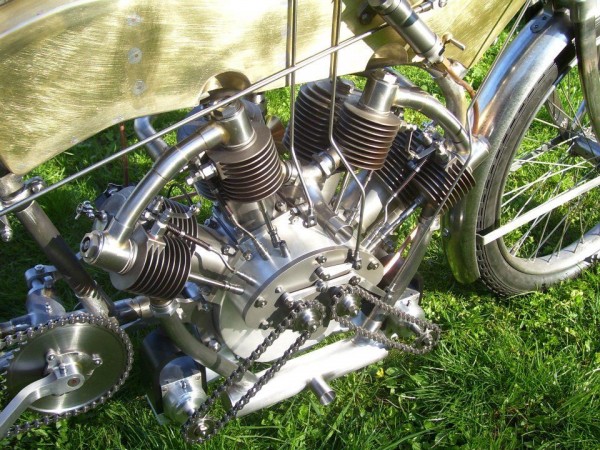 Last week we featured a very interesting video of a 1908-1909 Trojan & Nagl V-4, which was replicated by Pavel Malanik, a well known restorer from the Czech Republic. Pavel and his friend Josef Kubista have been in contact with us since and have sent along these photos and more information.
The following is Josef Kubista's description on the company and the effort by Malanik, that went into fabricating the chassis and machining the engine from scratch: "The Trojan & Nagl Company was based in Kolin (on the Labe River in Bohemia, which was an Austro Hungarian monarchy then). From the early 1900s, through 1910s and possibly into the early 1920s, the firm produced bicycles and motorcycles (one and two cylinders). As found in period marketing materials, we also know of a small car along with this four cylinder machine. A 3 cyl. Trojan & Nagl engine is also believed to have been used in one of the earliest local helicopter attempts as early as in 1912″.
"The bikes design was not really progressive and when we go through all the leaflets over the years, we still see the company using the same basic features that were out-dated before WW1. Features like flat belt drive, atmospheric inlet valve, bicycle type frame and seat, etc. How many of them were made is not known, the company itself looks very small by its footprint, but judging by number of preserved machines (and just engines in many cases) they must have been quite popular".
"This V-4 replica bike was built based on only one poor picture in a period marketing leaflet of Trojan & Nagl, by using "common sense" and dimensions taken from existing preserved Torpedo singles and twins. This picture was apparently taken from a photograph originally, so it is believed that the motorcycle was really built "in the metal" once upon a time".
Pavel Malanik is very well known restorer of early (1897 to 1910) Laurin & Klement motorcycles and he built this replica with an engine that has atmospheric intake valves. The curved second set of pushrods seen in the photos operate the ignitors of the make-and-brake ignition and the other set the exhaust valves.
So there you have it, the run down of one mans very determined effort to build a machine that no longer existed. Be sure to view the video in the link above if you have not seen it before, as you can see other construction photos and then watch and hear it's very distinctive sound as Malanik rides it.