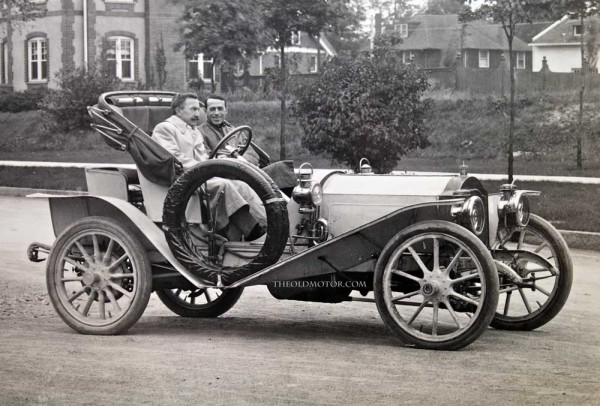 Henry B. Joy, General Manager of Packard and  F. M. Alger, an investor in the company are seen above in the Model 30, which was new for 1907. It turned out to be a very successful car, which was larger and a continued development of the Model 24. The 30 with minor changes, would go on to a quite long, six year production run.
It featured a 5″ x 5.5″ bore and stroke, 432 c.i., t-head four that was rated at 30 h.p. It actually produced between 50-60 horsepower and they are a quite a satisfying car to drive, as it processes more than adequate power along with good hill-climbing ability. Packard continued on with a refined expanding band clutch and three speed transmission. The car was available in a 108″ w.b. as seen here with the sporty roadster and the 122" w.b. chassis was used with the longer bodies.
Seen in the second photo below is the well know 30 referred to as "Gasoline Gus" which was a test car that was on the road on March 10, 1906, carrying an earlier Model S body. It was run by the engineering department day and night in testing and also by company officials. It finally was turned over to the sales department, and it had racked up some 55,000 miles of testing, before the car was put into production. The next photo shows the team of Packard test drivers on the factory grounds.
Below are full details of the new Model 30 from the Horseless Age Magazine, along with an accounting of Henry Joy's trip to New York, when details of the new model where made public to the press. The third clipping shows the modification to the radiator cap that was done by Joy's private driver, that went on to become a Packard styling feature for decades. The last clipping tells of the mileage that was put on "Gasoline Gus", even after the car had finished its testing duties. Photos from the Rod Blood Collection courtesy of the Larz Anderson Auto Museum.