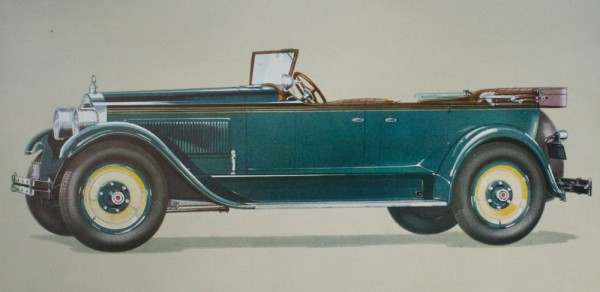 For a couple of months now we have been featuring the photographs in the Roderic Blood Collection. We last left off with the 1908 production year and we will continue that series of black and white photos which last all the way up to the early thirties.
For a change of pace, we have decided to share with you some of the art that the company used in advertisements and printed materials. This series of richly colored lithographs was produced by the Detroit Press, in February of 1927. This art was used for the Third Series Eight cylinder models, which were designated the 336 and 343 depending if the chassis was the 136″ w.b. or the longer 143″.
The body styles shown here are The Phaeton at the top. Just above left to right, The Runabout, The Sedan Limousine, The Club Sedan, and The Coupe. Below, left to right The Touring Car, a view of the interior of The Sedan, The straight-eight engine and a view of the factory complex in Detroit.
Updates and changes in this series are as follows; The bore was increased from 3.375″ to 3.500″ which along with the 5.0″ stroke yielded 384.8 c.i. With the larger engine, Packard also made the change from cast iron pistons to more modern aluminum pistons. Other changes to the combustion chamber, manifolds and carburetor resulted in the nine-main-bearing-straight-eight, posting an output of 109 h.p., a gain of 24 h.p. over the previous year. The clutch was changed to a double plate unit and the rear axle to hypoid gearing. Advertising art courtesy of  The Larz Anderson Automobile Museum.