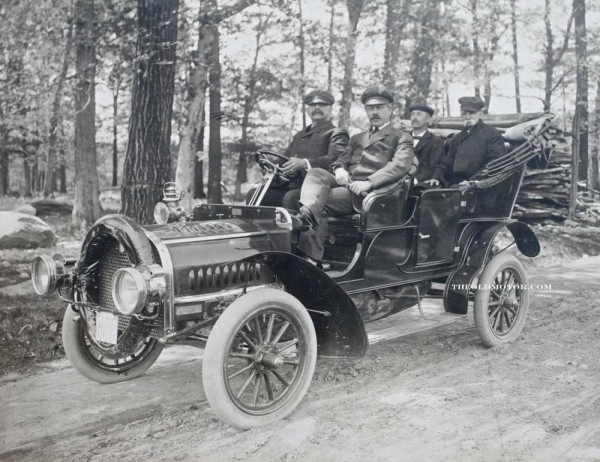 Here we have quite a crew of gentleman in Pennsylvania, with what appears to be a near new Rambler. The license plate is dated 1906 and it almost appears to be springtime as the leaves look to be on the small side.
The spare tire and cover are mounted out in front of the large round-tubed radiator, just behind the headlight irons and it is held in place with leather straps and buckles. The photo is so clear, as are many glass plate negatives, that you can actually read the Phare-Solar name plates on the acetylene gas head lamps.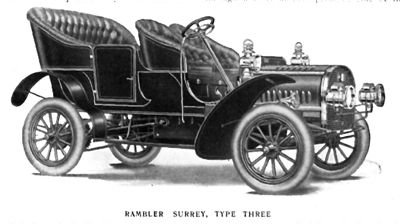 This crew also appeared to have a sense of humor and liked to have a fun time as you can see in the second photo. They have a sign on the side of the seat which reads "The DAM Carburetor Has GONE WRONG" and the driver is posed with his tools.
An article in the Motor Magazine, dated April 1906, which contained the illustration seen above, had this to say about this particular model which they called the type 3 Surrey. "It is practically and elaboration of the type 1 and 2, with a somewhat longer wheelbase and a more elegantly appointed body, similar to the type 2. It will sell for $1350 with usual equipment".
The type three was a two-cylinder 18/20 h.p. machine that appears to have been on a 100″ w.b. The Old Motor photo.