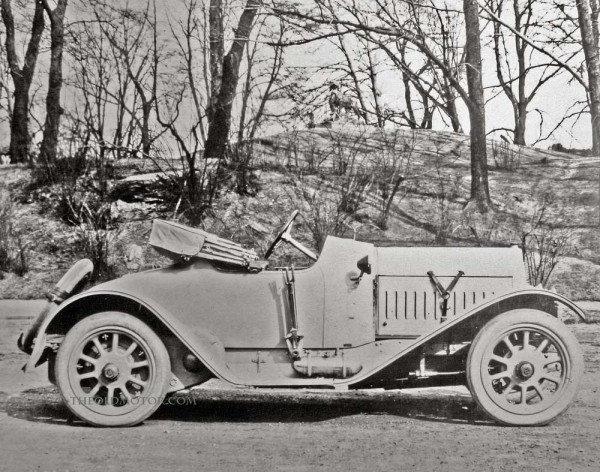 This is the last of the Joe Tracy and friends series of photos from the Peter Helck Collect-ion, which shows Tracy's Isotta-Fraschini K. M. roadster. Tracy must have been quite proud of this machine, because at the time it was one of the most advanced pieces of automotive finery available.
We will give you some of this incredible automobile's specifications, but you should but all means, take the time to read the three page article from the Oct 1, 1913, Horseless Age  below, to learn more about this fine machine. The first thumbnail below is from the Motor and is dated 1911.
A few details; Chassis price $9000, 180 h.p. at 2200 rpm, 5.118″ bore x 7.874″ stroke (130 x200 mm) and almost 650 c.i., four-valve o.h.c. engine, double-chain-drive and three sets of brakes, (front wheels, rear wheels and water-cooled jack shaft). Impressed ? You should be, because at the time, 1911-1913 it did not get any better than this.
If you like this kind of early automotive exotica, find yourself a copy of George Wingard's book, "Wolves in Sheep's Clothing".  Another great book by Wingard you will also enjoy is "Real Wolves in Sheep's Clothing" . Both books are worth the price and are filled with great photographs, illustrations and information written by a very know-ledgeable collector and master restorer. Photo courtesy of Racemaker Press.