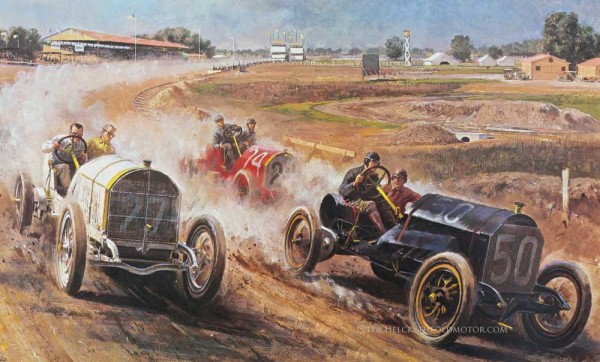 1909 Indy Inaugural: Remy Brassard. Another fine Peter Helck artwork depicting the twenty-five-mile Free-for-All Remy Brassard race, that was held on the second day of the three day Indianapolis Speedway opening event.
There were only three starters for the race; Oldfield's white Benz, Zengle's Chadwick and DePalma in a stripped stock Fiat which was a substitute for the Fiat "Cyclone". Zengle had perviously defeated Oldfield in the ten-mile open event, but this painting depicts Oldfield passing Zengle on his way to the win in this race. During this 25-mile event Oldfield, who according to Helck in his book Great Auto Races, set five records.
The records stood until Oldfield broke them in the same car in 1910 after the track had been paved with bricks. During the first event in 1909, the crushed rock and tar surface failed miserably causing many problems. Speedway officials decided to pave the track in bricks which commenced Sept. 18 th. and was finished on Dec. 10 th. after some 3.2 million paving bricks had been laid down. Artwork Courtesy of The Helck family.