By Ivan Požega: 1928 was a memorable year in the racing career of Leon Duray. For Indianapolis Leon had a Miller 91 cu in Front Drive car that had been reworked from his 1927 mount. The addition of a very large intercooler, and the use of methanol fuel were instrumental in Leon setting a qualifying record that would stand until 1938! Of course the flat out driving style of Duray was also a factor.
This photo from 1927 shows the absence of the special intercooler used by Duray in 1928.
Leon Duray on the pole at Indianapolis,1928.
In the 1928 race itself, Leon dominated the first 150 miles before the engine developed an overheating problem that ended up causing retirement from the race around the 300 mile mark.
Only one week later the engine was repaired and Leon was invited, along with Cliff Woodbury and Cliff Bergere, to attempt high speed laps at the Packard Proving Ground track. The reason for this invitation by Packard was that the records set could be used for publicity for a front wheel drive car Packard was considering producing.
The track was 2.5 miles in length, with parabolic banked turns. The concrete surface proved to be very abrasive, causing excessive tire wear. All the drivers were ready to quit when Packard offered Leon a sum of money to lap as fast as he could. He went to the very outer edge of the turns, getting airborne at the transition between the banks and the straightaways. Leon managed to turn a lap at 147 MPH, while other drivers never got above the 130 mph range.
Leon Duray gets ready for the high speed attempt.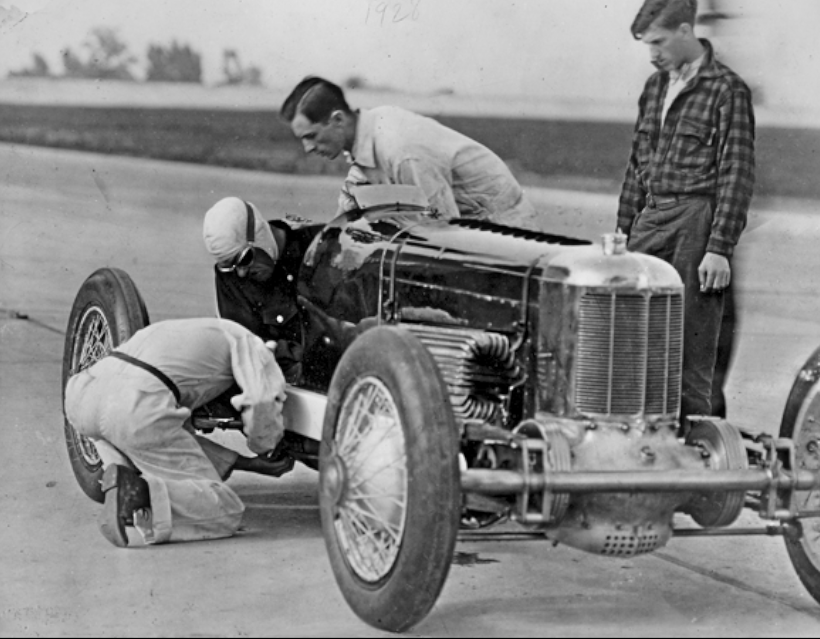 Warming up on the track with Norm Batten in a Miller rear drive car alongside.
The story of Leon Duray and his start in racing is an interesting one. His actual name was George Stewart.
Stewart joined the IMCA, a travelling racing group headed by Alex P Sloan. The IMCA had special train cars and took nine racing cars to fairgrounds tracks all over the country.
The racers included a young Tommy Milton. These races were scripted, in the words of Milton,"fakeroo". Alex P Sloan got the idea to play off the success of Arthur Duray at Indianapolis in 1914. Sloan named Stewart Leon Duray, the French driving ace.
All went well with the plan until the group arrived at New Orleans for a race. French speaking dignitaries wished to speak with the famous Duray, who as it turns out didn`t speak a word of French!
There was a big outcry over this and Sloan ended up convincing Stewart to get his name legally changed to Leon Duray.
A photo below of Leon in his Rookie year at Indy, 1922. Leon later became a car owner and finished in the money in 1934. Mauri Rose finished a fine 2nd in Leon Duray`s car.