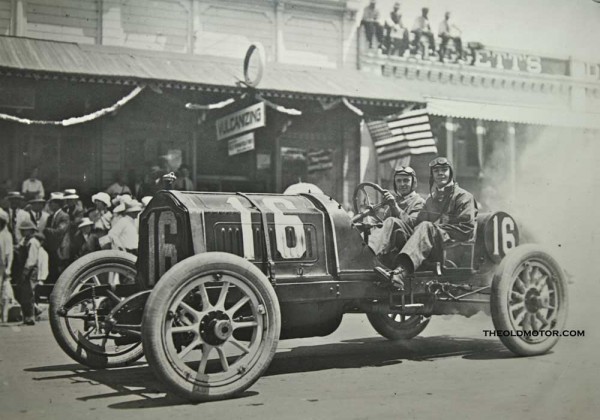 By:  Leigh Dorrington:
These photos show what looks like a Packard Six Model 48 entered and driven by its owner, W. S. "Billy" Campbell with mechanician C. W. Brady in the 100 mile free-for-all road race at Visalia, California on July 4, 1913.  Our database of early race results confirms that Campbell and his Packard finished first in the race, which was a non-AAA event.
The Packard Six was introduced in April 1911 and soon replaced the Model 30 that ended production in 1912.  The first Packard Six offered a 48 hp six-cylinder engine and a wide range of body styles on 108" to 133" wheelbases, plus a large touring car on a 139" wheelbase.  The Packard Six was an expensive automobile, with prices ranging from $4,900 to $6,250.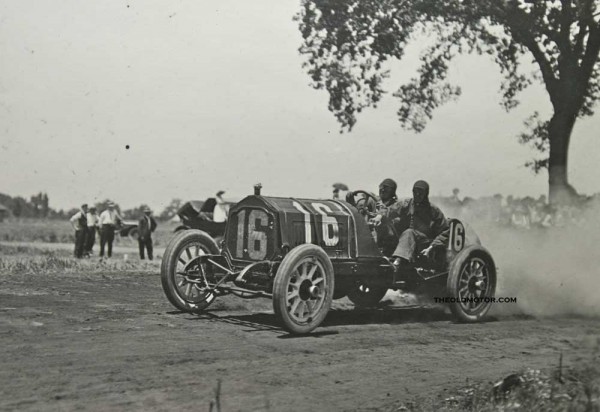 Campbell's #16 Packard is a stock chassis, stripped of fenders, body and accessories.  Features that help to identify the car as an early Model 48 include the right hand location of the steering wheel, the round front axle and hand crank, all of which passed out of Packard 48 production after 1913.  The first photo shows the team posing for the camera before the start of the race.
The caption on the second photo reads, "Making the oak tree turn at 55 mi. per-(sic) In the 100 mi. Free for all Visalia Road Race".  The race was run on a 3.1-mile rectangular course around Visalia, located in the San Joaquin Valley in the shadow of the Sierra Nevada Mountains roughly half way between Los Angeles and San Francisco and sometimes called the "Gateway to the Sequoias".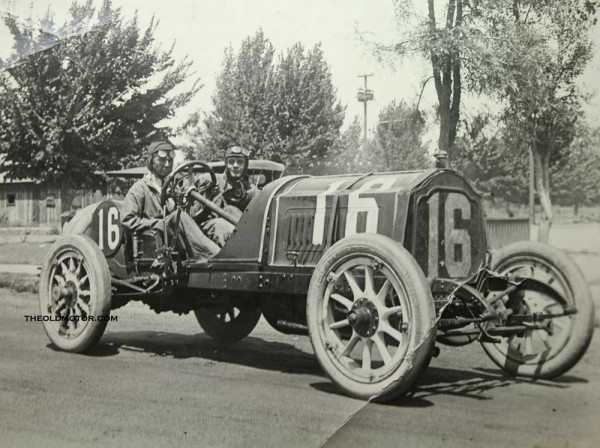 Campbell and Brady are shown above shortly after winning the race.
Visalia hosted two race events in the previous year of 1912, on July 4 over a distance of 100 miles and on November 28 over 150 miles.  Harry Sprague on a National won the latter race.  The second-place finisher in the July 4, 1913 event is also shown as a National—carrying the #1, perhaps from the previous November victory, although the name of the driver of the National is not identified. Photos from the Rod Blood Collection courtesy of the Larz Anderson Auto Museum
Historical Note:  We believe the correct date of the Visalia race shown in these photos to be 1913 based on correlation with early race records.
The date has also been published as July 4, 1914.