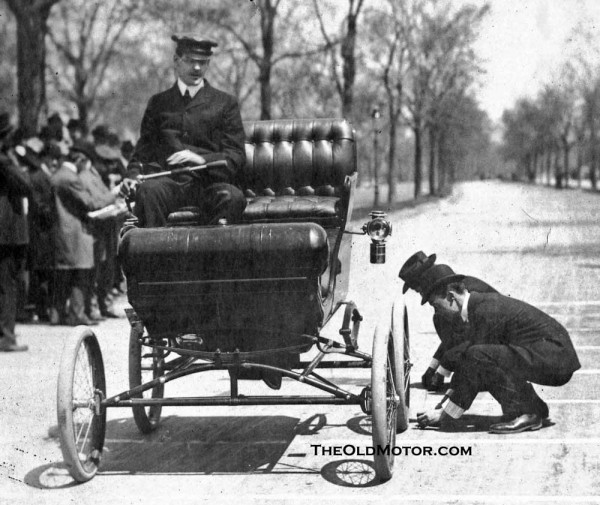 This photo like many early photos, tended to get labeled incorrectly back in their day and we believe this is one of them. Many thanks to reader John Kelm, who sent us this photo, one of a number of great early glass-plate negatives he obtained that we will be sharing with you in the future.
This was labeled as a curved dash Olds, but based on the looks of its axles, springs and perch poles, we believe that it maybe an early Stanley, or possibly an early Locomobile built after the Stanley brothers had sold the company. What is interesting, is the large tank on the top of the dash, that maybe an extra water tank, possibly used for competition?
The car appears to have been in some type of competitive event, and this may possibly be the braking test part of it, judging by the marks laid out across the road and the two men who seem to be taking a measurement. The other clue leading us to think this, is the crowd on the left all seem to be looking down the road possibly waiting for the next car?
We are confidant that some of our readers who are steam car experts, will be able to tell us all about the car, the scene and maybe even the driver. But if not, we would like to hear from anyone who has information about this photo, to help John Kelm to ID this wonderful glass plate negative.
*UPDATE*  Kelly Williams has found that it indeed is a Locomobile:  It WAS an endurance trial!  I can hardly believe the coincidence, but I was paging through the June 1902 Cosmopolitan on Google books and found the attached.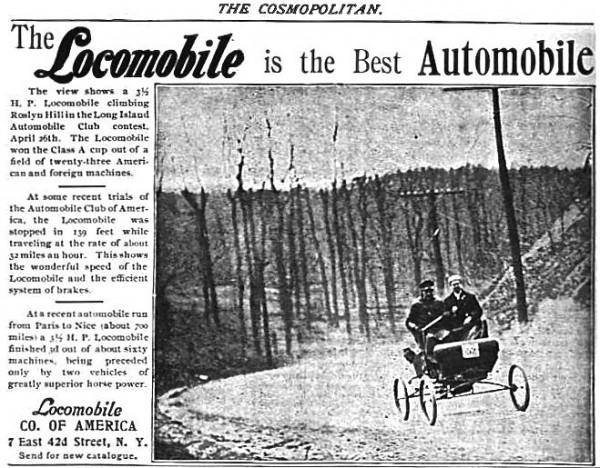 Which led to this text from Victor Hugo's "The Overland Monthly",
July-December 1902, page 14
The next endurance contest held in the United States was under the auspices of the Long Island Automobile Club, and was held on Long Island April 26, 1902. The contest was only one hundred miles, there being three classes of vehicles were provided for.
The text is garbled in the scan of "Story of the Automobile…" but it indicates that the Locomobile Co.'s entry covered the 100 miles in 7 hrs 7 min – almost dead last.  Fastest car was also a steamer at 6 hrs 14 min, though there was apparently a minimum time and maximum speed for the run which disqualified several cars.
New York Times for April 27th said "The hill-climbing contest at Roslyn had about twelve entries. Awards were made for the different classes. The best time of all was made by a steam vehicle in 1 minute 42 seconds."