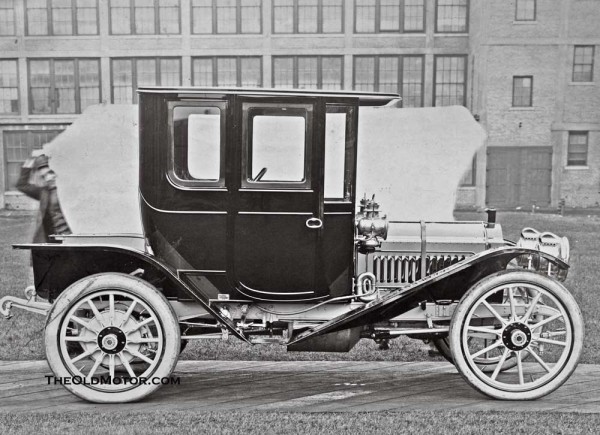 The Packard Company continued on into 1909 without many changes to the Model 30 other than a few refinements, but the big news was the introduction of the new Model 18. This new car was brought out by Packard for those who wanted a slightly smaller car and a car that was also easier to handle in the city. The Model 30 came on both a 124″ and 108″ w.b. chassis, depending on the body chosen, with a 5″ x 5.5″ bore and stroke four-cylinder engine. The Model 18 chassis wheelbases were 112″ and 102″ with a 4 1/16″ x 5 1/8″ bore and stroke four-cylinder. Full information on the new model can be seen in the last photo below, which is a page from the Oct. 1908 Cycle & Automobile Trade Journal.
The photo at the top shows an Enclosed-Drive Coupe posing in front of workmen at the factory, holding a cloth that was a bit to short behind it for contrast. The first three photos just above are quite interesting as they show a very mud-covered Packard along with documentation showing that it was driven from "Detroit, Michigan and over the mountains of Pennsylvania and return ". The forth photo shows a very elaborate town car equipped with a sun shade over the windshield as was occasionally seen on formal cars meant for touring use.
The first photo below shows a close-coupled touring car with an extra or "Mother in Law" seat on the very back, along with grab handles which are mounted on the back of the second seat. The second photo is labeled "Experimental Job 1909" on the back and is evidently carrying the test crew for their "Portraits". The third photo shows three Packards, two of which are carrying Indiana plates out in front of Willis-Haywood-Holcomb Packard dealers. The first car may be a 1908 model and note that the head-lamps are painted to save on brass polishing. The second car has a very unusually placed and large third lamp mounted over the radiator for extra light.
Photos from the Roderic Blood Collection are courtesy of the Larz Anderson Auto Museum.