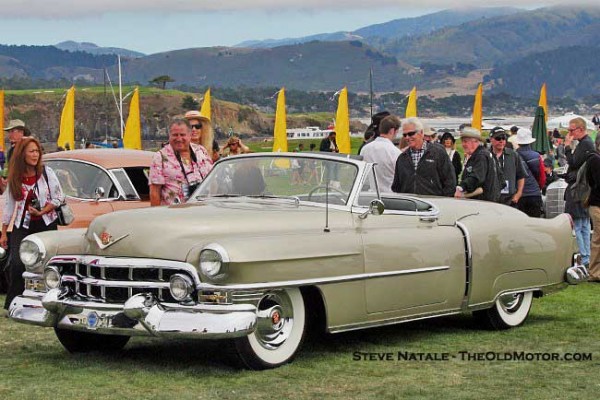 We knew that this car had to be special when our Christmas card from John and Heather Mozart arrived and a photo of this beautiful 1952 Cadillac was featured inside. The car is a one-off Harley Earl creation, that set the stage for 1953 and the Cadillac El Dorato. The car is such an important part of  the Cadillac history that we have included a post that Steve Natale has written for the Examiner.com about the car along with taking these fine photos of the car at the 2011 Pebble Beach Concours d'Elegance. The following is from Steve's article on the Examiner.com :
The Mozart Collection located in Mountain View, CA, is home to a very special 1952 Cadillac.  The car was created by the legendary Harley Earl, chief designer and first head of the General Motors Art and Color Section, and later Vice President of General Motors styling.  Earl's innovative and sometimes dramatic designs would change automotive styling forever, and some of his most memorable designs can be found on Cadillacs.  In 1948 the first tailfins appeared on Cadillacs. Inspired by the twin-tailed Lockeed P-38 Lighting fighter, the tail-fin would forever be synonymous with Cadillac. Earl designed many show cars, such as the Y-Job and the LeSabre, but he also produced some modified, one-off production cars as a design excercises.
The car featured here was created for Harold "Bill" Boyer, who was the Executive Vice-President of Cadillac Military Manufacturing.  The car is a one seat convertible that features a disappearing top, a feature that would appear the following year for the first time on the Eldorado production car.  The dash features an array of custom fitted gauges, including an altimeter and compass.  According to the car's owner, John Mozart, the car returned to GM in 1955 and was fitted with two-four barrel carburetors.  Sleek, sporty, and elegant, the car was popular and well received at the Pebble Beach Concours d'Elegance, and participated in the Tour d'Elegance in 2011.