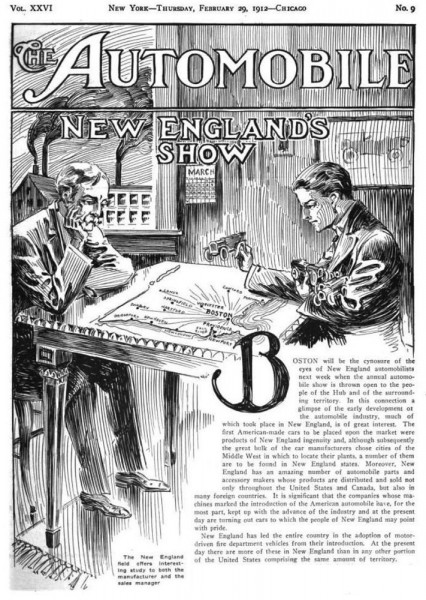 By:  Leigh Dorrington
The date on the issue of The Automobile above reads February 29, 1912— exactly 100 years ago, and a "leap year" then as it is today.  Leap years are not the same as "April Fools" for pranks, and the story is not a joke.
The headline reads, "New England's Show", trumpeting the 1912 Boston Automobile Show scheduled the following week.  The New England states provided an early and very important starting point for American automobile manufacturers and parts and accessory makers, based upon the highly developed level of industrialization in the northeast and the region's leading advances in interchangeable parts and precision manufacturing.  Some of the most familiar automobile manufacturers of the first decade of the 20th century were New England companies, including Duryea, Stanley, Locomobile, Pope, Columbia and Alco among many others.  By 1912, not a single one of these automakers were included in the top-ten producing American auto companies, but they had already had a disproportional influence on the American automobile industry.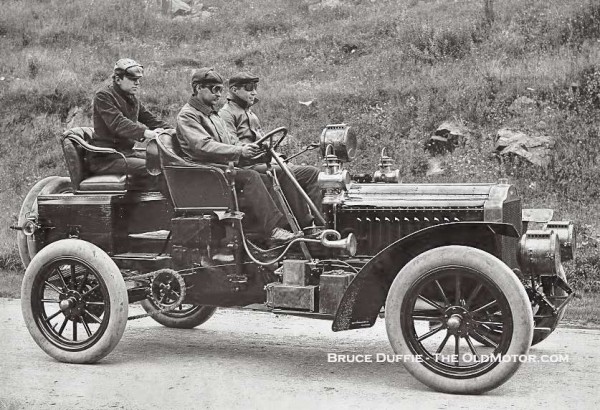 Images from the Bruce Duffie Archives. Bruce Duffie is an historian of early American automobile makers in New England, with a particular emphasis on the Pope and Columbia in Hartford, Connecticut that was one of the earliest leaders in U.S. auto production.
Editors note: Bruce Duffie's Grandfather drove this Columbia on the record setting endurance run in 1904. Take to time to visit his site and view more about this event and the Columbia a very fine car.