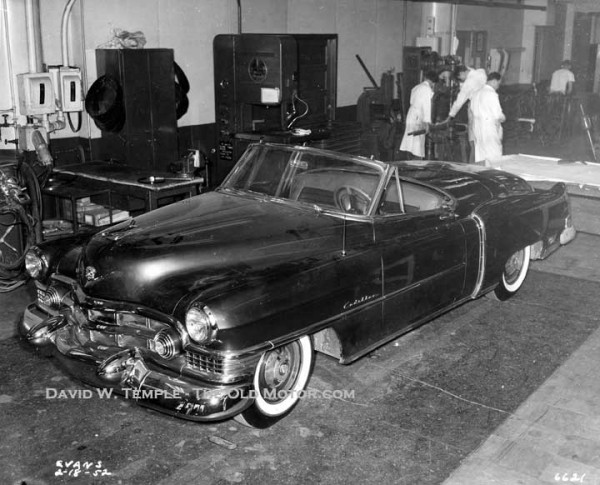 It has only been a few days since we did a post on this fine Harley Earl created master-piece, but since then automotive writer David W. Temple has come forward with much more information and early photos of this car that we are sure you will enjoy seeing.
According to Temple, Harold R. Boyer a well connected GM manager of Cadillac's Military Tank Plant located in Cleveland, in a conversation with Earl mentioned his dream car would be half Cadillac, half sports car. Earl became very interested in the idea and with Boyer's input had this car designed and created with the help of GM Styling.
It was built by starting with a 1951 Series 62 convertible that was sent to GM styling to be redesigned, with the finished result being this stunningly attractive car. The body was shortened ten inches and it also appears to be on a shorter than standard wheelbase. At the same time GM Styling lowered the car and the body by six inches. A hinged panel was created behind the seat, which opened to conceal the top when down for an uninter-rupted and sleek appearance. The dash was also modified to include extra instruments including a manifold vacuum gauge, a tachometer, aircraft clock and altimeter.
According to the Cleveland Plain Dealer newspaper article shown above, it was equipped with a 230 h.p. engine with dual-carbs and had a top speed of 130 mph. In 1955 Boyer had the car updated with wire wheels, a four barrel carb and the color scheme was changed at some point from the original black. The top photo and the first thumbnail appear to show the car in the Tank Plant. The second photo just above shows Gary Cooper and Sammy Chapin posing in the car. Thanks to David W. Temple for allowing us to share his photos and information from his site, where you can find many more details about this fine 1952 Cadillac.