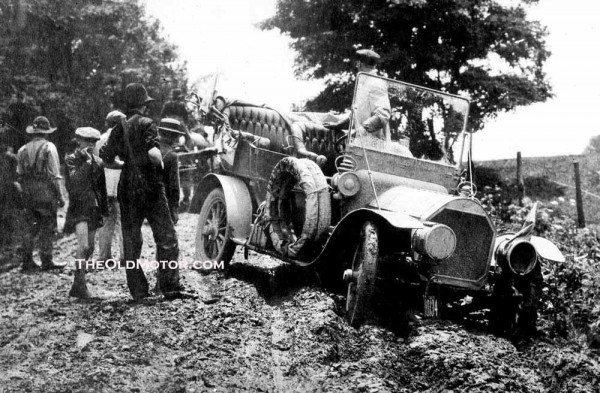 This is an interesting Glidden Tour photo showing a pre-1910 four cylinder Pierce-Arrow being towed out of a muddy spot by a team of horses. The photo gives us a good glimpse into what early motoring was like over 100 years ago. Hopefully one of our readers can tell us exactly what year this car is and what Glidden it was entered in. The Tours were held between the years of 1902-1913 and Pierce-Arrow cars won the 1904 AAA tour and also the first five Glidden Tours held between 1905-1909. The tours were named after the famous early motorist Charles J. Glidden, who first traveled around the world in 1902 in his English Napier, a car which we will take a look at soon.
Perry Pierce won the first Glidden Tour held in 1905, driving a Pierce Great-Arrow in the event that traveled from NYC, to Bretton Woods, NH.  The Pierce-Arrow Society  has a good listing of the marques performance and full details about the cars. Photo courtesy of  John Kelm.
*UPDATE* This post has received quite a bit of interest in trying to date this car and the year of the tour. Below is a clipping from the Horseless Age that states that in 1908-1909 the tour was won by six cylinder cars.