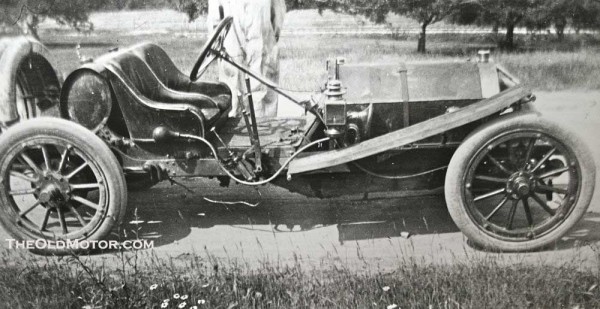 The Societe Francaise de Petit Ontillage, was a French automobile maker based in Clichy, France. The firm first marketed a car in 1898, the first reference found of the   company here in this country is during 1908. The U. S. branch was called the S. P. O. Automobile Co. and was headquartered at 1966 Broadway Ave., NYC. Like many early companies their cars were entered in a number of races and hill climbs. The best finishing position found, was a win in the up to 300 c.i. class in the May 28, 1910, Anderson, NY, Hill Climb by T. N. Cooke.
The 1912 Old Orchard Beach mile race has been covered here earlier and you can see a good enlargement of  H. Plimptons S.P.O. lined up and ready to start the race. Since that time, while going through the Peter Helck Collection, we came across the image seen above and the three to the left just below. The photos show the S .P. O. car and a Type I Locomobile support car, which appear to be either on the way to, or returning from the Old Orchard beach event. What is very interesting and may help piece more of the story together about this car, is the 1912 Mass license plate number 33503 on Plimton's S. P. O.
We are hoping that a license plate collector may have the right Mass. State directory to find who this plate was registered to. If you have the information or know of someone who does, please let us know. Collector Rick Rawlins owns the surviving S. P. O. racing car and with this information another piece of the cars history will be known.
In the fifty mile 1912 Old Orchard Beach race we have found the following results; first was won by Hummel in a Mercer, second by Nikrent in a Case and H. Plimpton was just behind in third driving the S. P. O.  You can see a two page article with photos in the July 10, 1912 Horseless Age Magazine that covers the race.
Just below in a photo is an S. P. O. that was entered in the 1910 Wheatley Hills Sweep-stakes, that was held along with the Vanderbilt Cup race that fall. The car is listed as having been driven to a fifth place finish by John Juhasz. Rawlins cars has a Juhasz carburetor and we were fortunate to have found the interesting patent drawings with his patent applications covering the Juhasz barrel-valve carburetor. Photos above courtesy of Racemaker Press. Photo below Rick Rawlins.