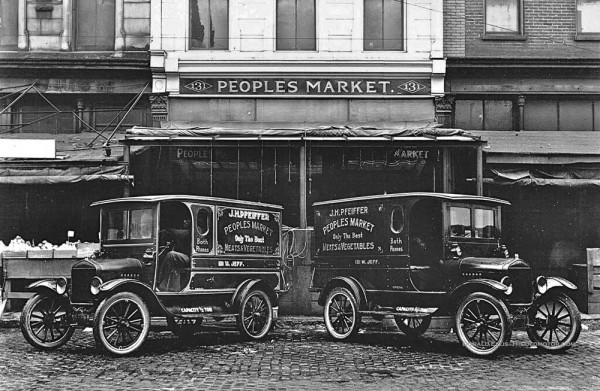 This is an interesting photo showing us the Peoples Market with two Model T Ford delivery trucks posed out front. The market run by J. H. Pfeiffer was located at 131 W. Jefferson St., Louisville, which is in the cities downtown business district. The market and the delivery drivers appear to have been quite busy back when it was more common for stores to deliver. The lettering on the sides of the trucks do not give us the number but do tell us that store had "Both Phones". Photo courtesy of Donald Ellis
We were there last year for the Louisville Concours d'Elegance and had dinner downtown in this area which is on the Ohio River. The river hosts two historic paddle wheel steam boats and there is also the traditional steamboat race on the week before the Kentucky Derby in May.
You can access the 2012 Louisville Concours d, Elegance which will be announcing details soon for the coming event.