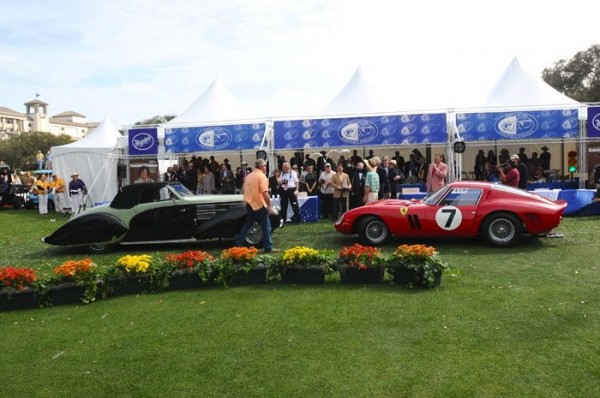 The Amelia Island Concours d' Elegance this year was outstanding as always and the weather was just perfect, in the low 70s and sunny. The whole event was outstanding and this year featured one-off custom coach built Cadillacs, Cobras and the Ferrari GTO.
These photos courtesy of Jim Donnelly from Hemmings, show the Off Brothers Collect-ion, 1938 Bugatti type 57 C  Aravis drop-head coupe by Gangloff  on the left, which won the Best in Show Concours d' Elegance. The beautiful 1962 Ferrari 330 LM on the right is from the collection of Jim Jaeger and won the Best in Show Concours d' Sport. Both cars in person were truly spectacular to see and hear run.
We were busy helping show a car and unfortunately had camera problems, so to see more photos check Jim Donnelly's post. In the very near future we will post more photos by Neil Rashba. Both should prompt you to make sure that you put this event on your calendar and attend the 2013 Amelia Island Concours d' Elegance.