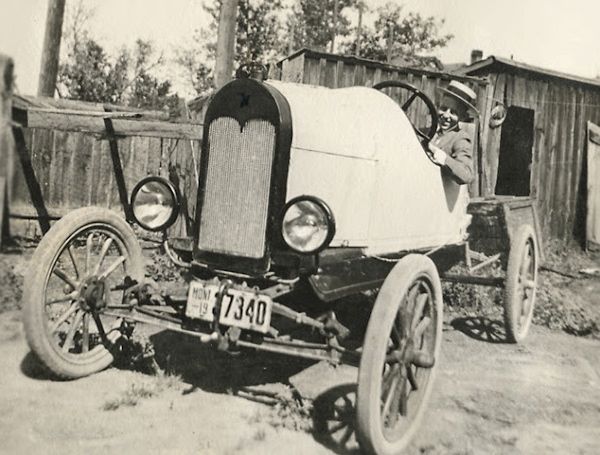 A week or so ago we posted some very interesting photos of early customs from Charlie Beesley's motor life.blog. Also on his blog, Charlie has the two photos shown here of a Model T Ford speedster, wearing 1919 Montana plates. Having an interest in Model T Ford racing cars since being a youth, I thought this would be the perfect opportunity to introduce you to the fascinating world of Model T Ford SPEED, racing equipment and cars.
This early Ford-based car appears to be a fairly tame road going speedster that may have been a father and son project judging by the faces in the cockpit in the photo below. Only ten years later, you can see from the excerpts of this 1929 Arthur Chevrolet Racing parts catalog above, just how far the racing equipment for the Model T had developed.
By the mid-twenties the Model T Ford was the most widely raced car in the county and a "Fronty Equipped" Ford managed to place fifth in the Indianapolis 500 race. Check out the pages of the "Fronty" catalog above and study them, as we will share more of this very interesting assortment for you in the near future. Included will be the dohc-16 valve cylinder head they manufactured, along with a complete line of racing parts and cars. See Part II of the Fronty catalog here.