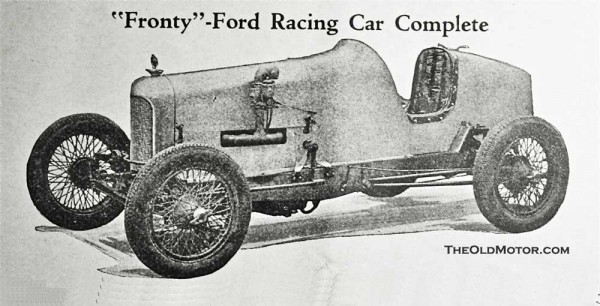 This is the second and most interesting part of the 1929 Frontenac Ford catalog that we are featuring. Above you can see the complete "Fronty"- Ford equipped with the DOHC head, which you can read all about on the pages of the catalog below. The DOHC was the crown jewel, but in fact the SOHC head shown in the previous post is considered by some, to be the most successful and cylinder head that Fronty produced.
The DOHC being thin and light weight as most racing heads are, along with being a cross- flow head, which was cooler on the intake side and hot on the exhaust side, was prone to cracking in some instances with hard use and overheating.
The prices quoted for a complete engine appear to be inexpensive today, but with inflat-ion figured in, the $765  No. 215 a complete 8 – valve rocker – arm equipped engine, would cost $10,184 today and the top of the line DOHC engine would retail at $18,639. The complete car would range between $26,627 and $35,946 depending on the choice of engines. These prices are somewhat inline with what a comparable sprint car costs today.
One other way to put it into perspective, a new Model A Ford in 1929, the year of this catalog was published, cost between $450 for a  roadster to a high of $695 for a four door sedan. In the next post we will cover many of the parts that were available for purchase in the catalog, to enable the less well – heeled racer to construct his own racing car.  The Frontenac Ford Catalog Part I. The Old Motor photos.