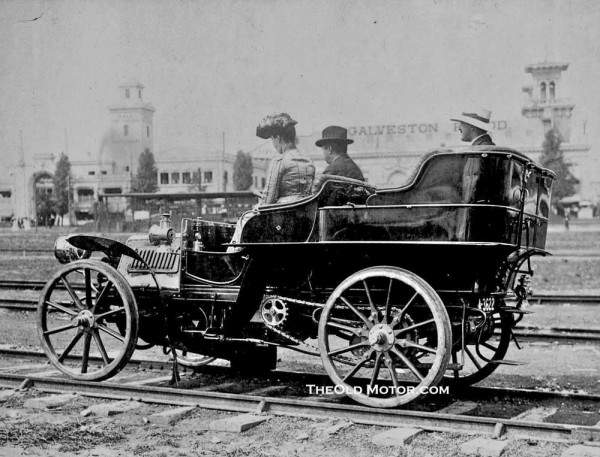 Charles J. Glidden was a larger than life character who first became successfully involved with the telegraph and its use. Glidden invented and set up the first telephone exchange in Lowell. MA., in 1878, after having met Alexander Graham Bell in 1876.  Glidden made a fortune in telephone business and sold out in 1901 and soon became involved with the automobile and its development.
In 1902 he, his wife Lucy and Charles Thomas a "Motor Engineer" started a tour of the world with a British Napier that ultimately over the years, traveled over 48,000 miles. In 1904, he took part in the first AAA tour and in 1905 the tour was named the "Glidden Reliability Tour" in his honor. Glidden donated the prize money and the trophy annually, in the interest of the development of the automobile, from 1905 up until 1913.
This press photo above shows Charles J. Glidden appearing to be in Galveston, Texas with his Napier. As late as 1907 he made a tour on rails from Boston, Ma., to Mexico City with his Napier and we found an account of the trip seen below, in the Autocar magazine, dated Feb. 2nd, 1907.  The clippings below tell all about that journey and how only fifty miles outside of Mexico City, the party suffered a derailment caused by a rock.
Glidden was unfazed by this incident and proceeded to have the car shipped back to London, to be repaired before setting out on another journey to see the rest of the world. Can any of our readers tie the photo above, to this the story in the Autocar? Photo courtesy of John Kelm.