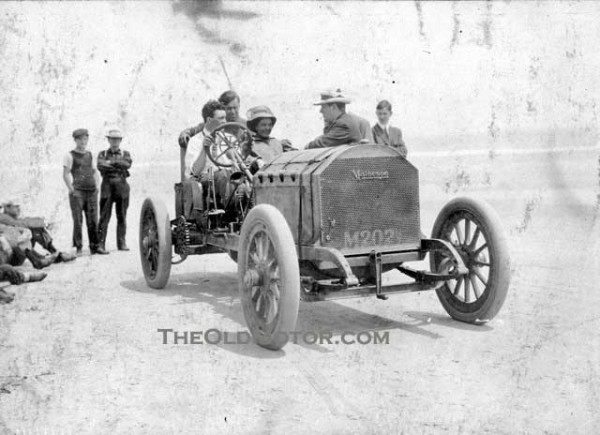 We have covered the first 1907 24 hr. Brighton Beach Race race earlier with some great images from the Peter Helck collection, and also a second post with Helck photos of the winners and their Thomas. Just recently Frank Rifenberg found these families photos and is sharing them with us. His grandfather Charles Rifenberg was the riding mechanic in the race along with James B. Ryall who drove the impressive Matheson. Charles can be seen above standing behind the car and below in the mechanics seat.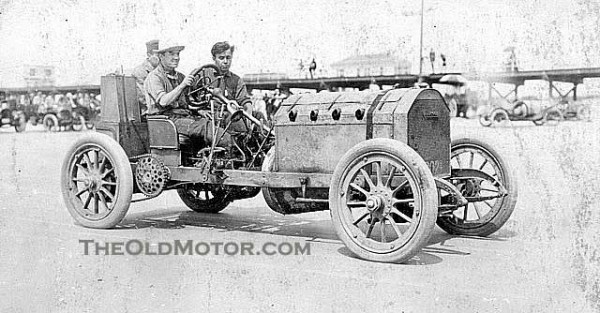 The first photo below, taken before the start of the race, shows the two Lozier cars in the foreground, interestingly with three of the headlamps covered with what appear to be newspaper. Frank Rifenberg mentions that his grandfather Charles is seen in the third car. Seven of the fifteen cars listed in the race are lined up here, the very last one appears to be a Renault which is not listed as being an entrant.
Frank Rifenberg also mentions that his grandfather owned the Empire Car Co. for a few years and was friends with Henry Ford.
The last press item below, which is from The Automobile, dated August 22, 1907,  below tells how the promoter, William Pickens skipped town with the PRIZE MONEY. Pickens went on to a long career as an auto racing promotor and worked with Ernest Moross another early promoter. Both were somewhat shady characters, known for their staged or rigged events that toured the county fair circuit.
We are fortunate to have five pages of Matheson posts to share with you here, if you are interested in learning more about this fine early maker. The Matheson, was one one of the best early cars made in this country, between the years of 1904 of 1912. Photos courtesy of Frank Rifenberg.