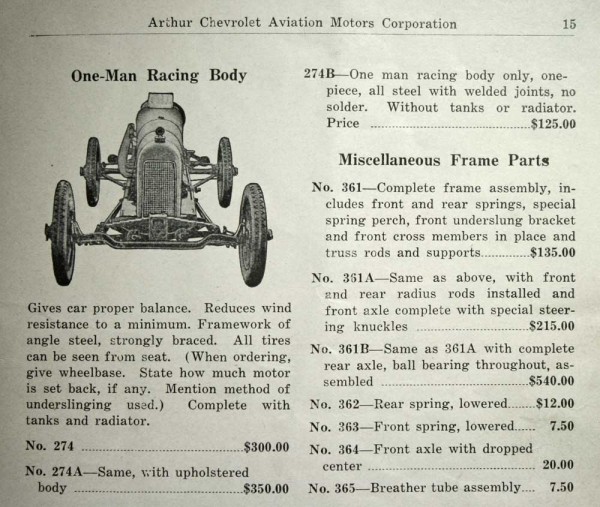 The previous two installments we have posted here of the 1929 "Fronty-Ford" catalog showed us engines, cylinder heads and even complete cars for sale ready to race. For the great majority of racers back in that time, buying a race ready to race car was not an option.
This post at top shows us the various options all the way from a complete body to only the cowl and seat section. The chassis was also offered with a specially shortened frame equipped with spring lowering brackets, along with also being offered with the complete front end assembly and lastly with the race modified rear axle assembly.
The first page below offers several options for counterbalanced and oversize crankshafts to replace the undersized original. Also offered are stronger connecting rods with over-sized big-end bearings along with several versions of racing pistons.
The second page below offered Winfield and Zenith carburetors, a racing magneto, special exhaust manifolds for the firms cylinder heads.
The third page above covers the special oil and water pumps necessary along with all of the required parts to set up both systems. The Ford had neither an oil or water pump and both were needed for high-speed use.
The last page covers some of  the chassis parts and wheels the average racer would buy to lower or make his home made car safer on the track.
At the highest level of racing, using the Model T Ford, few of the original Ford parts were used and the rest replaced with hand made or manufactured parts. The high end car usually only used the following original Ford parts which were then modified; frame, front and rear axles, torque tube, engine block, engine and transmission under pan. The transmission was modified and the original cast iron flywheel was turned down from roughly 16′ dia. to only about 10″ to lighten it and also keep it from exploding at high engine speeds.