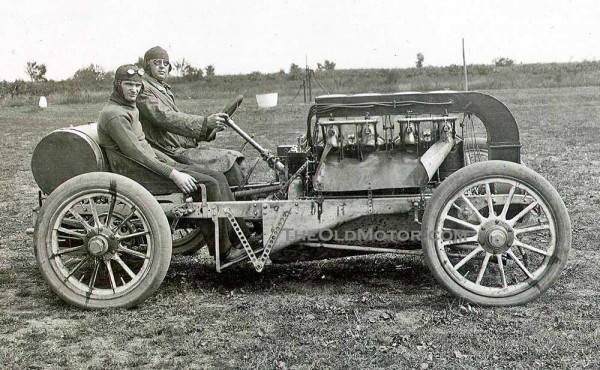 This photo shows a 1906 Frayer-Miller that was one of three that were entered in the Vanderbilt Cup Elimination race that year on Long Island. The Frayer was on a 94″ w.b. with a crankshaft-driven fan that cooled the engine. The engine itself was 7 1/4″ bore x 6″ stroke which works out to a 990.78 cubic inch displacement monster!!!
Only one of the Frayer-Miller cars made it into the 1906 Vanderbilt race and only after a protest was filed after the elimination race. The race was won by Wagner in his Darracq, a fine French car. Lawell was the driver of the Frayer-Miller which only lasted five laps in the ten-lap race. It is listed as having gone out with a broken fan.
 All of that aside, Peter Helck in his own words had this to say about the cars when he described them in his book The Checkered Flag: "Of equal note and more revolutionary (United States racing fostered the non-conforming breeds regularly), were the three Frayer-Millers" I think in Helck words this was a nice way of describing  a "Freak" as something unusual was commonly called at the time.