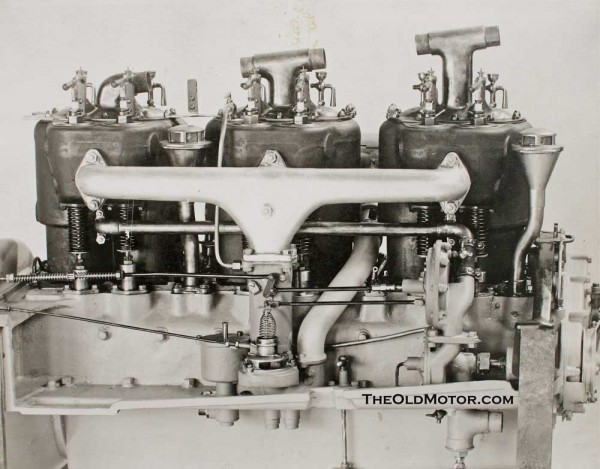 As we mentioned in our last post covering the 1911 Packard, the firm had made the big move as most of the other high quality manufacturers had, or were planning to do and announced the companies Model 48 six cylinder engine as can be seen above.
It is very similar to most big American six cylinders engines of the time, a t-head design of 525 c.i. with a 4.5 " bore x 5.5″ stoke. The crankcase and oil pan were cast of aluminum and the three separate cylinder blocks were of cast iron. Visible are the up-draft air-valve carburetor and in front of it the unique Packard governor of the diaphragm type that is operated by the water pressure output of the water pump.
Below left to right are shown; the Model 48 Brougham, a Model 30 which Packard con-tinued, shown wearing a touring body equipped with a "Canopy Top" with curved glass windows on either side at the rear. And last we see the Model 48 Touring car. Photos from the Rod Blood Collection courtesy of the Larz Anderson Auto Museum.