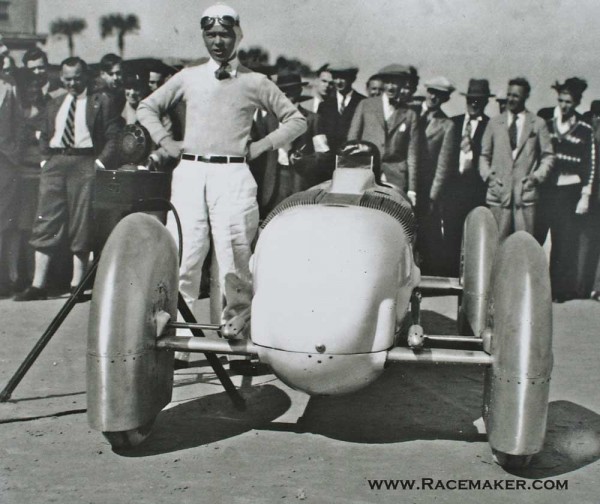 On April 25, 1928, eighty-four years ago today on the sands of Daytona Beach, the life of a very bright racing star tragically came to an end. Frank Lockhart died on his second attempt to set the land speed record in a beautifully built V-16 powered car of his own design.
Racemaker Press has just completed the publishing of a Frank Lockhart – American Speed King, by Sarah Morgan-Wu and James O'Keefe and has chosen to announce it in today in honor of Frank Lockhart and his many incredible accomplishments.
As a handsome, intelligent young man, gifted racer and mechanical genius, Lockhart has long captured the imagination and curiosity of generations of automobile racing fans as a classic example of the question: "What might he have accomplished if he had lived?" Thus there remains a certain mystery about Frank's amazing talent and fearless driving ability.  The product of years of serious research, the book focuses on much long-forgotten or hidden information that sheds important light on Frank's character and incredible, if all too short, influence on American automobile racing.
"Previous authors have generally focused on his 1926 Indy 500 win and Land Speed Record attempts. They have never delved fully into the life and the details of his career, " notes Joseph Freeman, Publisher and creator of the new Racemaker Press American Racing History Series. "Another point of this book was to actually check and verify many questionable stories that have been circulated about Frank Lockhart's life and career."
In their careful historical effort to set the story straight, authors Sarah Morgan – Wu and Jim O'Keefe have combined their efforts to delve into all aspects of Frank's life. They have left no stone unturned in an attempt to uncover the true historical record of this remarkable man.
Lockhart was an incredibly talented mechanical genius who while working as a mechanic started his racing career in 1923 at a track in San Luis Obispo, Calif., in an AAA event on a one-mile track. Frank turned out to be a gifted driver who in only his second year of racing in 1924, was nipping at the heels of  the pros in his overhead valve Ford racing cars, and is seen below in the first photo being flagged the winner in a race at Ascot Speedway in a race. The second photo shows him wearing the "Italian Crown" also at Ascot after winning a race.
His career quickly advanced and in 1925 he can be seen in a Miller 122 at the Culver City track in February 1925 in photo three below. By 1926 the rising star had achieved nation-al success seen in the last photo below, after having won the Indianapolis 500 only three years after his racing start. The race was called for rain on the 160th lap, but by that point in the race Lockhart was three laps ahead of the driver who finished in second.
In the winter of 1926-1927 Lockhart the natural born engineer, along with a group of others, went to work on improvements for the supercharger used on Lockhart's Miller racing car and also went on to develop and patent his own design of intercooler. In early April 1927, he and his Miller racing car with its changes, set a two-way speed mark of 164 mph on the Muroc dry lake.
In July of 1927 Lockhart announced that he was going after the land speed record and backed by Stutz, he started construction of a very innovative car of his own design. This car carried a custom built supercharged and inter-cooled V-16 engine, that used four Miller dohc straight-eight blocks and two crankshafts geared together, seen in the first thumbnail photo at the top.
The first attempt at Daytona in February of 1928 ended after several runs, when Lockhart on an attempt on the last day of the speed meet at over 200 mph ran into a rain squall. With no visibility, he ended up in the soft sand on the beach and lost control and crashed into the sea, a scene which can be seen in the second thumbnail photo at the top.
A determined Lockhart after a short recovery, returned to Indianapolis and announced that the crew would rebuild the car and he would return to Daytona try again. They were back at the beach on April 2oth and in practice runs with carburetion problems he was only able to attain a speed of 200.33 mph towards the 206.956 mph record set by Donald Campbell. Ray Keech in the White Triplex mean while was able to raise the record to 207.55 on April 22nd.
On April 25, the fateful day with unfavorable beach conditions, Lockhart tried again. On the first leg of his second two way run he attained a speed of 203.50. On the return trip only 700 feet from the timing stand, his car went into a skid (believed to be caused by a tire blow out) and then tumbled violently, throwing Lockhart out of the car and injuring him severely. He was rushed to the hospital, but sadly he died of his injuries less than a half an hour after the crash.
This new book by Racemaker goes into to the complete Lockhart story along with showing many very interesting photos which have not been published before. It also tells the story of the aftermath and the continued lives Lockhart's other cars and engine from the record car. It is an incredible story of a very determined Frank Lockhart that you are sure to enjoy.
Frank Lockart; American Speed King  is available at www.racemaker.com  or by calling 617-723-6533.  The book is 256 pages, with 190 images, many full-page photographs, hardbound and dust-jacketed.