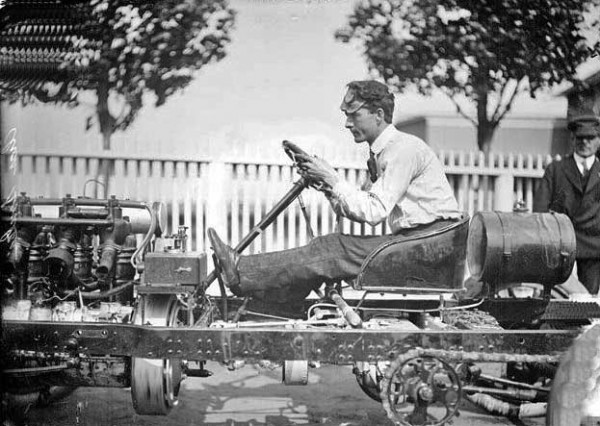 Tim Martin found this great circa 1904-1905  photo of Charles Soules, aboard  a racing car. We are not sure of the maker but their is a possibility that it may be a Pope-Toledo. If any of our readers know more about the car or what event Soules was in please send us a comment.
**Update** With some research we were able to find what we believe may have be the event that is shown in this photo. On July 3, 1905 the second 24 hr. race in the country was held in Columbus, OH. at Driving Park on the East side of the city. Charles Soules and his brother who were racing for Pope-Toledo at the time won the event.
There were also other shorter races held at the same event and this Pope-Toledo may have been a different car set up for sprint races, judging by the small size of the gas tank. We found a second photo that appears to have been taken at the same time, which is the first photo below on the left. This photo was in one of the Chicago newspapers and we did find the report of the event in one of them.
The second photo is from Automotive Topics March, 1905 issue, and shows the very odd Pope-Toledo transmission and differential, in which the changing gears are after the ring and pinion. This could have been very difficult to shift as the gear reduction (ring and pinion) was before the transmission gears. This is the same problem that the Miller fwd racing car suffered from.
The third photo shows a standard production engine with siamese exhaust ports and slightly different cylinder block construction.
Take a look here at several pages of other 24 hour races we have here on The Old Motor. Photo courtesy of the Library of Congress.