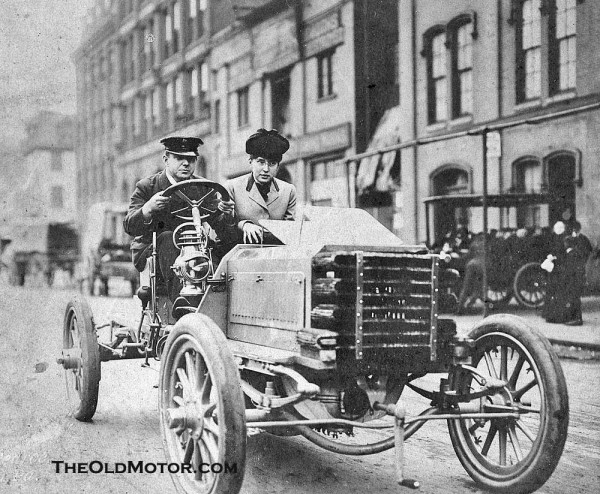 This great very early photo shows Barney Oldfield and possibly his wife Beatrice posing in what is believed to have been his first Peerless racing car. Barney started driving for Peerless in 1903 and the first event that we were able to find him recorded as driving one, was a race meet in September at Grosse Point, MI., where he won a 5 mile race and finished second in a 15 mile race.
This car that Oldfield is posing in, appears to be very similar to the Peerless that Charles Wridgeway is seen in during 1903 at the New York, Empire City track in  just below. The Wridgeway car is stripped of its hood at that meet, but appears to have the very same shape on the wooden dash board, along with sharing many of the other details as the car Oldfield is in. There is a possibility that this is a promotional photo taken, when Oldfield started driving the Green Dragons for Peerless late in 1903. Oldfield was also driving for both Winton ( he quit on April 12) and Ford earlier in 1903.
This photo above comes to us courtesy of Mike Schultz who found it over forty years ago with other Peerless and White steamer photos, one of which had a connection to Atlantic City, NJ. The photo below is from the Peter Helck Collection, courtesy of Racemaker Press.