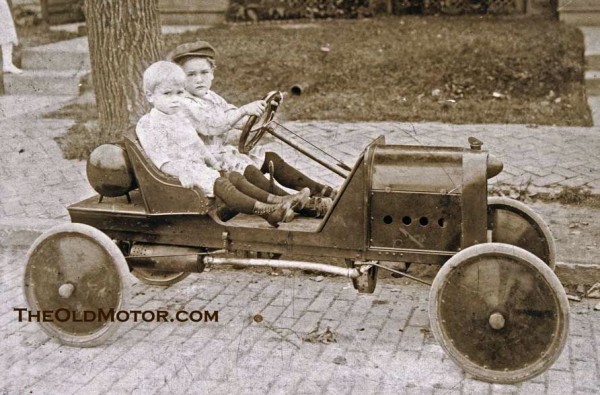 This very special photo shows two young boys, in their dresses (common at the time) posing in a cute and tiny little speedster. A guess at the time frame would be the 1910-1915 period, as the radiator appears to be patterned after a Blitzen Benz. The Benz was the hottest thing on wheels at the time and had been pushed to 141 mph in 1911 at Daytona to set the LSR at the time and was every boy's hero.
This little car appears to have been manufactured as it has a channel frame of riveted construction. As to the power plant a guess would be that it has a small one lunger. For the controls, it had one lever and one pedal and a hand throttle on the steering column. The rest of it is patterned after after the typical speed cars of the day. Who ever owned this car (the photo was found in the Grand Rapids, Michigan area) must have been the envy of the town at the time.
We are hopeful that you, our knowledgeable readers will be able to help us identify the maker of this cute little speed car. The Old Motor photo
Seeing this little car makes me think back to when I was an eight year old kid and with my father's help, built what I call the U.S. Plywood Special (seen below), during the winter of 1962-1963. It was built on the dirt floor in the garage just behind myself and my little brother. Times were much different then and it was all done in front of a little pot bellied stove over the winter, under one hanging light bulb, with an extension cord, a 1/4″ drill and hand tools.
Since I had no funds, but was an excellent scrounger, it was assembled out of left over junk found in the neighborhood and all over the town.
The main pieces of this horrible looking concoction were the following; The frame was made from an old bed with angle iron rails. The power-plant and rear section was from an old lawn mower which had both forward and a reverse. My dad who was a tool and die maker, machined the rigid front axle with conventional type spindles and tie-rod from plans found in Popular Mechanics. The front wheels were old soap box derby neighbor hand-me-downs that were somehow bartered for.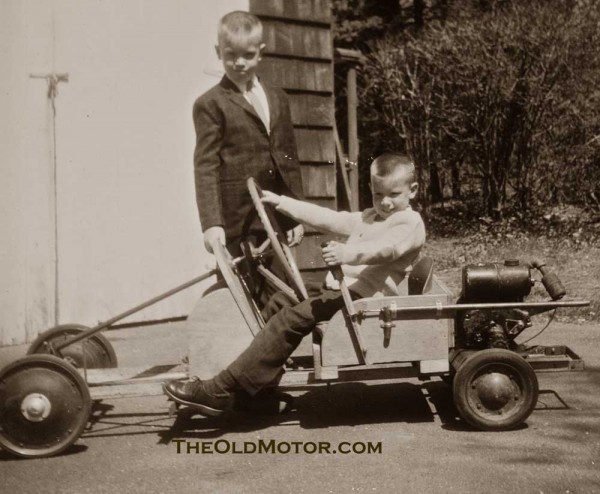 The body was made of plywood and masonite and an old delivery van provided the seat cushion. The steering wheel came off of a wrecked 1957 Chevy, after many bicycle trips back and forth for bigger implements of destruction, before it was finally forced off of the junked car's steering column.
It was a great learning experience…..so help a kid if you can, as many did way back then when they helped me with this, who knows where it might lead?