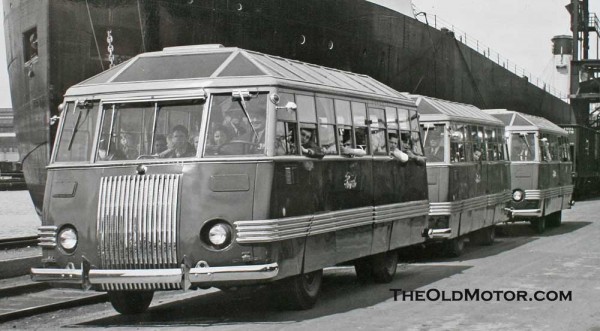 *Update* We have not learned anything more about the buses, but thanks to reader Karl Hagen we have found the the pilot house of the Benson Ford is now a cottage on South Bass Island, Put-In-Bay, Ohio, North of Sandusky, Ohio, on Lake Erie. You can read the story of how the pilot house was saved and moved in 1986 when it was slated to be scraped in Cleveland, Ohio.
This press photo shows us tour buses filled with school children at Ford's River Rouge plant. The photo is dated May 5, 1946, which leads us to wonder if these are pre or post-war buses? They appear to possibly have glass roof panels on the sides, no doubt so that visitors would be able to look upward and see some of the sights at what may have been one of the worlds most impressive manufacturing complex ever.
The Henry Ford  has full information on the facility, including covering its entire history from when Henry Ford first bought 2000 acres of land there in 1915.
We would be interested in finding out if any Ford or bus historians can tell us any more about these units and if they were custom made just for tours or if they were production models. We assume that the Benson Ford behind the buses was an iron ore hauling freighter. We have many more photos of The River Rouge that you can enjoy here. The Old Motor photo.