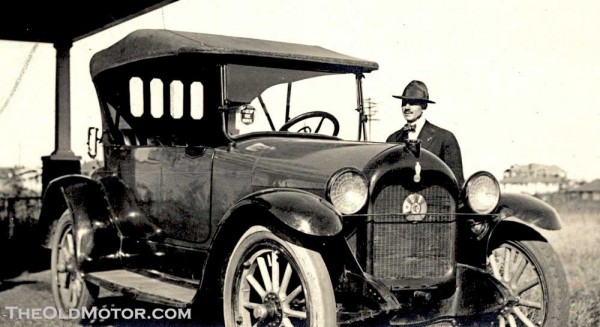 Thanks to Reader Donald Ellis we have this image of a quite rare Case, which was manufactured by the J. I. Case Company. The firm was located in Racine, Wisconsin and along with its well regarded tractors and farming equipment, built the Case automobile between the years of 1911-1927.
This car appears to be circa 1915-1917 and the picture to have been taken during WWI, as the sticker on the windshield states "Back Up The Boys". The body work on this car appears to be a rare close coupled cloverleaf style with a bustle back trunk of the type that was in vogue at the time.
The postcard below courtesy of  Wiki, shows the Case building in Racine a bit earlier on, proudly displaying a statute Old Abe the eagle, the companies mascot. Abe can also be seen on the car above, displayed just below the radiator filler.
If you have anything to add or can date the Case, please send us a comment.