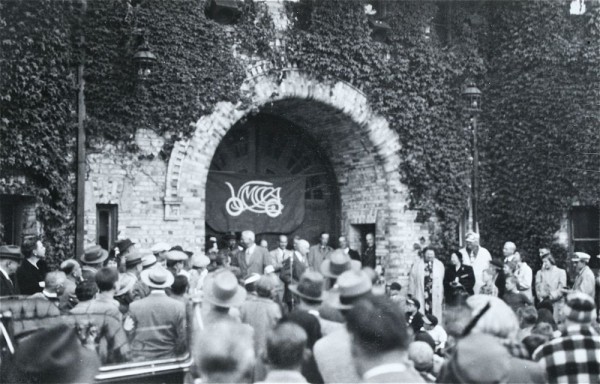 Normally The Old Motor does not show photos of older club activities and meets, but this case we are going to make an exception to show you just how long the Larz Anderson Auto Museum has been open to the public. The photos show the opening ceremonies on October 15 & 16, 1949, with the help of the VMCCA an early supporter.
In the photo above a French chauffeur who worked for the Anderson's for 31 years, has just finished giving a speech and in it he mentioned that he be-lieved that Mrs. Anderson would have been greatly pleased to know that her and Larz's cars, carriages and the carriage house would be used in this way.

Just above is a ticket from the opening ceremonies. The photo on the left below shows a Stanley, Packard and a Rolls-Royce which attended. In the middle is an early Model T Ford depot hack. The last photo shows famous opera singer and early car collector James Melton's Curved-Dash Olds-mobile arriving for the event. Photos from the Alden Handy collection courtesy of Joe Puleo.